EM Forster is best known for A Room With A View but the futuristic short story on which this world premiere is based puts him up there with Sci-fi visionaries like HG Wells, Arthur C Clarke and Philip K. Dick.
Essentially a century ago in The Machine Stops he predicted the creation of the Internet that is now omnipresent in our busy lives and - even more chillingly - anticipated how that reliance on technology begins to erode our humanity.
Humanity now lives underground and with citizens like Vashti living in self-contained pods only communicating with other via a Skype like system as their every need is catered for by the all-seeing machine. Humans have become so reliant on the machine that they can't even be bothered to run their own baths.
Vashti's cosy, soulless life is rudely interrupted by her rebellious son Kuno who is determined to defy the machine and reach the earth's surface, which is likely to see him banished to his death from his compliant community. As Kuno attempts to reassert his humanity will it cause the all-powerful machine to stop working?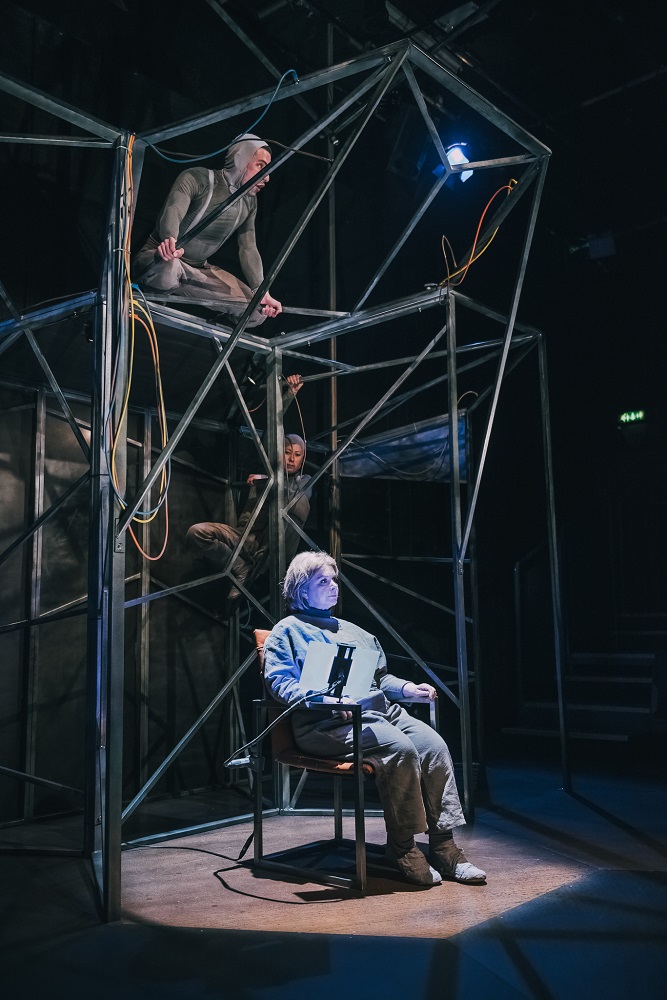 To the modern sci-fi reader this vision of a dystopian society over-reliant on technology is a bit old hat, but don't forget Forster wrote this over a hundred years ago. Modern greats like Kim Stanley Robinson are examining similar themes of seemingly inert computer systems developing a life of their own, but without the benefit of a century of big technological changes they can call on.
Old hand Caroline Gruber holds this hour long work together as smug true believer Vashti who worships the machine to the point that when she is forced to travel across the globe to see her son she can barely walk after spending so long being waited on hand and foot by the machine.
Newcomer Karl Queensborough more than holds his own making Kuno's battle to the surface of our planet emotionally and physically powerful.
Juliet Forster's direction keeps Neil Duffield's words bouncing along nicely and has Maria Gray and Gareth Aled who play the machine reject clichéd robotic movements. Instead they scramble and slink their way around Rhys Jarman's simple, but effective, futuristic set as they mimic the movement of insidious information through the machine that now has an agenda life of its own.
The other star of the show is the original score written by former Ultravox frontman John Foxx working with fellow electronica outlaw Benge. Their minimalistic beats, which are often little more than more incidental music, subtly take us in the heart of the machine that is stripping away the very humanity of the people they seek to serve.
It might seem strange for a pioneering company like Pilot to go back a century for inspiration, but Forster was so far ahead of his time that this powerfully realised piece becomes utterly contemporary. If you don't believe it then just take a walk down any street in Britain where you will see people with their heads buried in the devices that are the precursors of Forster's machine.
The Machine Stops is at York Theatre Royal until Saturday June 4th before a date at The Point Eastleigh on June 9th and two nights at Portsmouth's New Theatre Royal on June 10th and 11th.
Reviewer: Paul Clarke
Reviewed: 17th May 2016
Photograph: Ben Bentley