After seeing a show at Stockport's beautiful gem that is the Plaza Theatre and Super Cinema called 'Dirty Dating', I knew I had to pop along to see this show - by different producers and unrelated or connected - Dirty Dusting.
Entering the auditorium to the sounds of Frank Sinatra, we are met by a set of flats in yellow with green trimmings (door, window frame and dado rail) and tables and props set to give the 'effect' of an office in which three 'vintage-style' cleaners take us on a journey as we witness their jobs, chat and surprising business idea which comes from an out of hours phone call to the office. The set is surprising for the office of a 'multi-national company', even in the 90s.
In contrast to Sinatra, the show opens with The Cure's 'Friday I'm In Love' blasting through the speakers, before the first and youngest cleaning lady - Scouse Elsie (Crissy Rock) enters donned in her stereotypical yet iconic pinafore - much to the Dinnerladies-esque styled show. I have no doubt that Victoria Wood would be proud of the well-written innuendo-ridden script filled with wit. Then enters Innocent AmDramer Geordie Gladys (Leah Bell) who responds to being shouted to through the closed door carrying a broken hoover (she dreams of performing with that famous actor, Dustin'...), before we meet final member of the trio Olive (Dolores Porretta) who regularly reminds us of her time as a Girl Guide leader. Along the way we hear of their spouses: Jack, Barry and Magistrate Geoffrey respectively and Elsie's grandson Mark.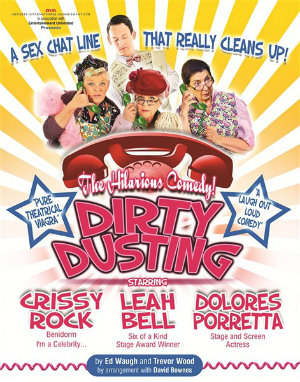 The final cast member is office worker David Smith (Lee Brannigan) who I found odd to be included considering the office they are cleaning is closed and it is the weekend. Other inconsistencies include the 'Authorised Personnel Only Beyond This Point' is on the noticeboard rather than the door and a phone call taken late on in the show is picked up from a different phone than it originally came through to. The only other was that one of the phone sound effects was digital and those handsets used were not.
The phones are part of the props but are instrumental in the story and business venture that the trio think up out of hours, building up a reputation for pleasing their customers and giving them what they want: a good time! It even improves Gladys' life in the bedroom despite it not ending well, divulged graphically in her descriptive explanation - amusingly one of the, female-heavy, audience members said "you can see her doing it" - it is very realistic and believable.
As well as the introduction song to set the day, Sunday is set a song that sounded like it was by The Beatles, as well as 'Sunday' by Sinatra and the show features their hotline theme song 'Telephone Bells', ending with a finale of ''Play That Sax' and 'Big Bad Wolf', proving that this is predominantly a show for the ladies as this is hardly a 'black tie' affair with these 'devils'. You certainly learn a lot about the ladies of Stockport, never mind the housewives of Cheshire.
The night concluded with a well-deserved standing ovation by the three-quarter full stalls and a plug to take photos and post them to the show's Facebook page to promote on the tour which heads to Whitley Bay tomorrow (Thursday 19th), Lancaster on Friday (20th), St Helens on Wednesday (25th) and Warrington's Pyramid and Parr Hall on Friday 10th June.

For a great night of hilariously clever laugh-a-minute comedy, head out to see this show!
Reviewer: Chris Oatway
Reviewed: 18th May 2016