Presented by students from the Arden School of Theatre's degree course, 'Theatre And Performance' ( hence the TAP in the title), this was a mini festival of student devised works both cinematic and theatrical. In a very cleverly worked -out programme and timetable, and using the whole of Salford's King's Arms (except the bar), punters were able to see as much or as little as they liked, but could in fact, do just as I did, and manage to see everything in just three hours.
In the pub's snug the films were being shown on a continuous loop throughout the whole day, and since they were each only a few minutes long, you could easily watch one or two in between your visits to the respective performance areas. There were six short films in total, and all were very professionally edited and shot, even if the storyline or subject matter was a little weird. There was one showing a young man wearing a horse's head going about his shopping and daily life in the centre of Manchester; and there was one showing the face of a girl in the bath with the water from the bath partially covering her eyes, and cutting away several times to show different eyes.. As well presented as these films were, I didn't understand what point they were trying to make with them.
However, there were 5 theatre presentations too, and so I'll take you through them in the order I saw them.
PERSONAL LEGEND: A COWBOY DREAMS OF SPACE.
Devised and performed by Tristan Chadwick, Frank MacDonald, Lily Hewitt Jasilek, Raymond Gultom, Sam Lowe, Paul Burke, Louis Smith and Kate Smith.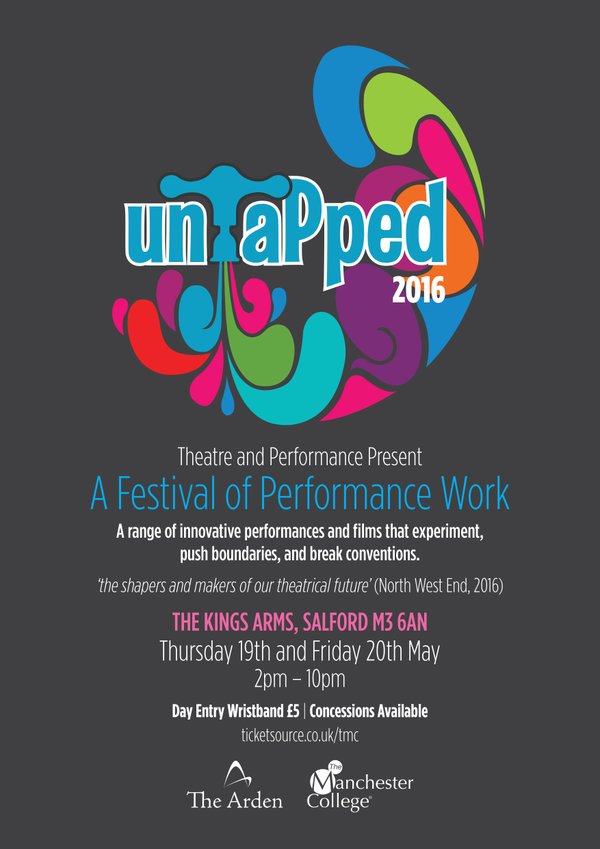 Directed by Debbie Newton.
A rather intriguing title made even more so in the knowledge that this piece was a devised work set around 10 given stimuli which had to somehow be incorporated into their piece. Some of the stimuli were objects, others actions, music or ideas. The result was a rather bizarre telling of a cowboy dreaming of walking in space. To be honest I am extremely glad I saw this piece first as it was the longest, in the main theatre and was the only one directed by a tutor and not students themselves, and so their 'showcase event', and yet it was the weakest link in an otherwise really rather strong chain. It was the most unfocused and most diffused of the pieces on offer and had nothing more to offer the audience other than entertainment and bemusement at its bizarreness. It neither provoked nor challenged the way the other pieces did.
Some of the ideas used were indeed creative and much humour was found in very simple things such as a walk or tapping the wrong rhythm, but I think my favourite moment of this piece was a duologue between two actors each with a hobby horse between their legs telling really bad horse jokes to the audience. It was so tacky it was actually hilarious.
The theme of the play seemed to be concerned with the ephemeral and transient nature of love and time, as well as our dreams and how much control we might have over what we dream. For me, whether it was intentional or not, the sand that was omnipresent on the floor, and was played with by the cast whenever they weren't actually performing, became a lovely metaphor for the evanescence of love, time and dreams. These were 'The Sands Of Time'.
THE BARDEN BOYZ #1
The audience was then ushered into the upstairs bar, to find that we had caught the landlord and two of his employees in a rather embarrassing situation and they certainly were not ready for the Pub Quiz that we had gone for, and so we were told to go very abruptly and come back later!! Don't worry, all this was part of the performance and was superbly done. And so slightly bemused and amused we left to come back later.
DRIED DOLLS
Devised and performed by: Jourden Drew, Lauren Greer and Charlotte Todd.
This was definitely the highlight of the event. Performed in The Crypt, a tiny space underneath the pub with paint peeling from the walls and bare wires and cables everywhere, and exceedingly cold, and yet also somehow clinical due to the whiteness of the room. This space seats only a handful of audience comfortably and the performance space is also cramped and tiny. This though worked in its favour as this piece needed to be very up-close-and-personal. Using three white bed sheets in interesting ways, and also three plastic storage boxes with water, their stage was set. Three young ladies, all dressed identically in matching white evening dresses, presented a satirical but heartfelt tirade on women's beautification and the sexism and sexual problems this creates. Is it empowering for a woman to dress seductively or are they simply asking to be raped? Why do men find women attractive only if they have smooth hairless skin? These and other similar topics were touched upon and briefly explored with much passion and humour, laying their souls bare and letting us in on their more private thoughts. It was a very short but amazingly tight and proficient piece of theatre which to me certainly has the possibility of being lengthened through R+D, and perhaps using a dramaturge to help, but I feel sure there is a very compelling and thought-provoking full length play in there somewhere.
FOLLOW YOUR LEADER
Devised and performed by Ciaran Watson.
We now moved to the Studio Theatre, another tiny space which seats only 15 or so, but is at least a black-walled space with stage lighting and a definite stage, unlike the Crypt.
This was a very interesting and rather odd piece of theatre, but extremely clever, and performed with such conviction.
The premise being that he, the actor, is this unnamed county's appointed leader, and we all must obey him in order to grow and develop as a country. It was a raging satire on communism and we all simply had to stand up and follow his barked instructions; working together for the good of the individual.
We all played 'games' such as reverse Jenga, and pin the poster to the wall, all whilst choosing an un-elected committee and singing the National Anthem.
Bravo Ciaran. This could have been a huge flop and fallen flat on its face, but you managed to make us, a rather unwilling bunch of tutors and friends, do your bidding and it certainly paid dividends.
BARDEN BOYZ #2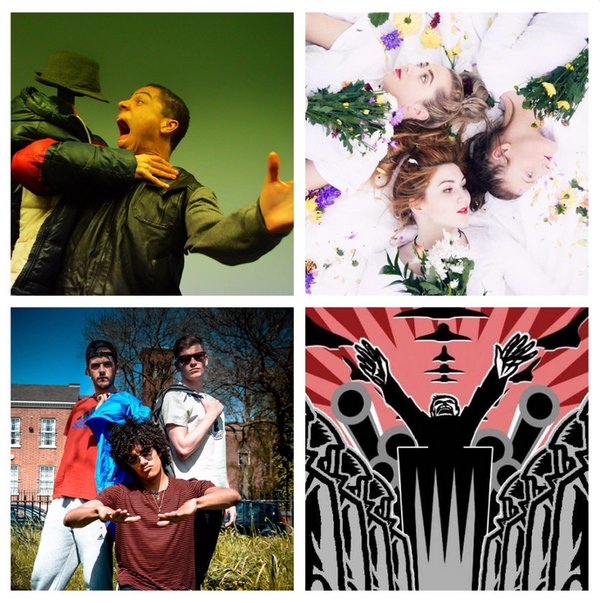 Devised and performed by Ashley Griffith, Luke Riley and Richard Young.
Back in the upstairs bar, and we were invited to sit at the tables laid out a-la pub quiz. The Three G's - the shouty, rather over-bearing landlord with his inept helpers - one who was rather introvert and the other who just wanted to entertain us with his rap - managed to be both highly insulting to us and make us feel rather uncomfortable at the same time as entertaining us with their realistic banter. This was a magnificent example of one of the directions theatre is going in and is certainly the zeitgeist in Polish theatre. Directly challenging your audience; using a non-performance space; insulting them, 'playing' with them, and being totally sincere in your absurdist commitment. Unique, bizarre and totally compelling.
BE_BE_DO
Devised and performed by Jordan Ramos.
A physical mime artist of considerable talent, Ramos took us on a short journey of his daily life, from walking the dog, to watching TV, to changing a light bulb. The miming and comedy timing was spot on, and his physicality a joy. All without any dialogue and to the familiar tunes made famous by Benny Hill, these mundane quotidian actions were highlighted and accentuated to perfection. Ramos is certainly a physical performer to look out for in the future. His talent is undeniable and it was most entertaining.
The short film at the end of this presentation though added nothing and was unnecessary.
....................................................................................................................................
The Theatre And Performance course at The Arden aims to teach the students new and innovative ways of making theatre. They do not study acting in the traditional sense nor do they all wish to be actors who are on the course. It is a chance for them to explore newer and more innovative techniques and find their own styles and ways of making interactive, immersive, challenging and maybe even groundbreaking theatre. To do this they study such things as Theatre of the Absurd, Theatre of the Grotesque, Physical Theatre etc, and also devising, writing and producing. These short presentations today are wonderful examples of the body of work these students are in contact with and all of them were non-traditional experimental pieces breaking perceived theatrical boundaries and putting the audience at a disadvantage.
I have been reviewing the productions of this theatre school only since last October, but in that time I have had the privilege and pleasure of seeing a good number of productions from their various courses. I have to say though that all in all, today's mini-festival was certainly one of the most entertaining and mature performances to date.
Well done indeed to all involved.
Reviewer: Mark Dee
Reviewed: 19th May 2016