Last night I was treated to a double bill of performances at HOME, Manchester, part of the theatre's First Birthday Weekend celebrations. Despite the order of billing it was Eggs Collective, in their performance of Late Night Love, who ventured forth first, armed with interesting black morph suits and boxes of Milk Tray. They were followed, in a calmer and softer atmosphere, by Liz Richardson performing as part of The Conker Group, speaking frankly yet gently about her experience with ulcerative colitis with the wonderfully titled Gutted. The performances, despite being sold together and viewed one after the other, could not have been more different, and it remains a struggle to understand why the two were put next to each other in the first place.
Late Night Love explored the confusion of growing up as a teenage girl listening to the radio wanting to know what love is, wanting someone to show her.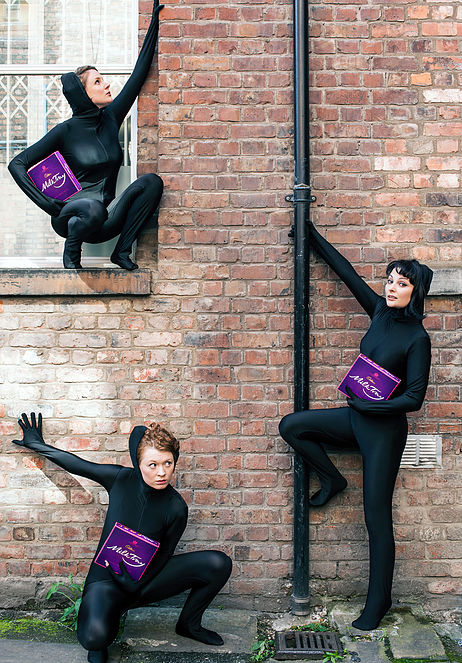 The music in this performance, perfect love power ballads blasted from speakers, was brilliantly chosen and timed, and only heightened by the atmospheric smoke, confetti, and the lone strawberry cream proffered to me silently on a covered hand – they must know that this lady loves Milk Tray. The performances surrounding this atmosphere (Leonie Higgins, Lowri Evans and Sara Cocker) were part clowning, part physical theatre, part performance, part sketch show, part radio show, never quite finding one angle to focus on. While this did reflect the whirlwind of emotions experienced by the teenage girl alone in her bedroom with just her radio for company, and all of the elements were well performed, it did also leave the show itself slightly confused.
The staging was particularly interesting, part traditional audience seating and part tables and chairs integrated into the performance space. I was lucky enough to find a seat in the stage area and would strongly recommend that anybody else seeing this performance tries to as well, as the intimate and interactive nature of the performance with occasionally softly-spoken performers may have been lost on the audience members further back in the seating bank. The show itself was funny, although perhaps on several occasions a little too specific in its humour and references, and aimed at a certain generation. Nonetheless, Late Night Love was entertaining, amusing, and, despite its lack of structure, a good start to the night.
After a short interval, the audience returned for Gutted, a one-woman show about debilitating illness, hospital stays, chronic pain, and Activia yoghurt. The fluidity with which Liz Richardson slipped into a multitude of different characters was very impressive, and the hiring of members of the audience, paid in cake and beer, to read the stories of her closest loved ones was inspired. Liz told her story with refreshing and amusing frankness which retained dignity at all times and never veered into a gross-out competition, with even the bottles of ketchup and brown sauce lavishly used somehow poignant. I can only hope that this production achieves its aim to begin a conversation about chronic illness and disease.
Why these performances were placed as a double-bill is slightly baffling, as their style and subject matter seemed worlds apart. However, viewed in their own right, both productions were thoughtful and funny, exploring hidden aspects of the world we live in.
Reviewed: 20th May 2016
Reviewer: Hannah Torbitt