The Cloakroom Attendant gives the audience a secret look behind the clothes racks and the plastered smiles of The National Treasure. Dimitra Barla has great physicality as Margot, the cloakroom attendant, as she reaches for coats and bags with balletic movements. This one woman show describes the type of customer Margot encounters. The worrier that she must sooth, the aggressor which she must duel with and the young boy, Carl, for whom Margot has nothing but genuine smiles. Barla's portrayal of Carl, a small, fiercely intelligent young boy, was endearingly sweet. Combining his pretentious nature with the beautiful imagination of a young child.
The art works are also dramatized, however the connection between Margot and the characters of Freddie and Paul, brought to life from Dante's painting, was a little hazy; was it just the art work that Margot looked at in the museum or was there a deeper connection?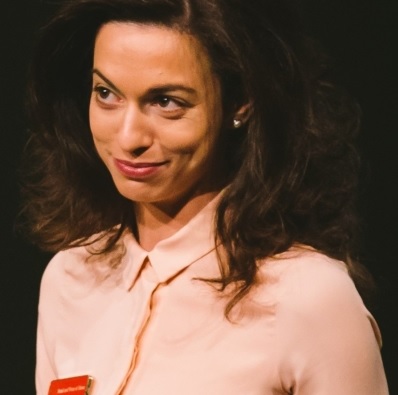 The direction from Natalie Katsou could have been crisper; the switches between art work dramatization and the re-enactment of various customers could have been cleaner.
There were some great comic one liners in the play and Barla's wonderfully expressive facial expressions spoke for themselves. The comedy could have been enhanced by Barla pushing the voice and physicality of each character to be vastly different to herself, so when returning to the character of Margot, being wildly unimpressed with her customers, it would have received the laugh it deserved.
The play was tentative, lacking a little pace and the energy was sometimes dropped as props were retrieved or scenes changed. However, Barla was charming enough to regain the audience's imagination quickly and Carl's frequent appearance was always a delight.
The Cloakroom Attendant was engaging, with some very humorous parts. The idea behind this play is wonderful, however, the lack of clarity and vitality feels a little disappointing, especially with such a potentially captivating actress.
Reviewer: Caroline James
Reviewed: 1st August 2018
North West End Rating: ★★★