TD Moyo's 32 Peak Street, running at Tristan Bates theatre, follows the young and relatable couple Susan (Jackie Macatiag) and Jesse (Martin O-Whyte) in their pursuit to become home owners of the hottest property on the market. Although, the pressure to fund the deposit becomes too much for Jesse and their relationship begins to take the strain.
Set in a black box studio with minimal set, every prop becomes multipurpose and we are forced to trust in our creativity to mentally picture the changes in location. Lighting and costumes remain simple and pedestrian throughout, yet with moments of semi-nudity; having an age rating on the piece would benefit it greatly on the audiences behalf.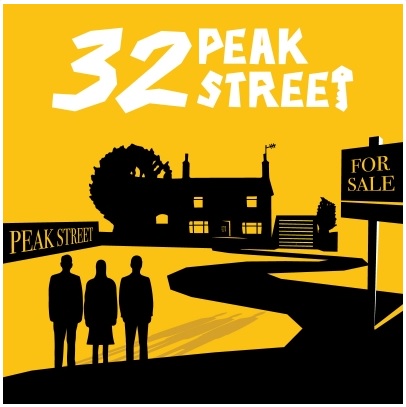 Corey Bovell makes his debut as writer, producer and also stars in the piece as Jamie, the desperate yet kind-hearted estate agent. Bevell's writing is quick fired, witty and up to date; and on the most part entertaining. However, the pace of the piece could profit from slowing down as the continuous tempo seems to lead the cast into issues with diction; resulting in lost lines and stumbling over words.
The relationship between Susan and Jesse is one of a slow burner, at first their chemistry is questionable and comes across as one of pure sexual attraction. However as the storyline ripens, we are exposed to another side of these two characters. Macatiag's portrayal of Susan is conveyed as materialistic at first, however her performance towards the end gains strength and we witness more truth and depth to her character, the love she has for Jesse, and her range as an actress. O-Whyte's portrayal of defensive Jesse is slightly more contradictory, there seems to be elements of truth to his character; a young, black youth trying to get by in a great white world. However, his urban colloquialisms and mannerisms at times seem forced. As a whole, impulse is often lacking from the cast - their true desire to say or do something, not because it is written in the script; but because they truly believe it.
32 Peak Street on paper is an all-rounder, it ticks the ongoing list of possible techniques. However, the line between traditional and modern references, and naturalism and abstract, becomes blurred therefore making it difficult to distinguish the genre Moyo was aiming for. Techniques such as Greek chorus work and acting practitioner Stanislavski's breaking the fourth wall place the piece within the abstract category, yet these moments are not as refined as they could be in order to pull it off. Nonetheless, the physical theatre section towards the end of the piece, coupled with the choice to use NAO - Fool to Love as accompaniment is one of the strongest scenes in the show. It is violent, passionate, truthful and representative of the trials and tribulations Susan and Jesse are battling; without needing text. The genuine exhaustion from the stylised movement brings Macatiag's and O-Whyte's acting towards the end to the next level, the standard of acting we should have witnessed from the outset and throughout.
Alvin Ikenwe who plays Kieran is one to watch. Strengthening the piece from the moment he emerges and consecutively after that, his one liners, eccentric personality and honest raw character brings 32 Peak Street to life. He shines with an almost effortless energy whilst not overpowering others.
Overall, with more rehearsal time and a longer run, 32 Peak Street is a piece that needs time to mature and find its groove. In spite of that, if you want to laugh and support upcoming writers, actors and producers - 32 Peak Street is a good place to start.
Reviewer: Tamara Smith
Reviewed: 3rd August 2018
North West End Rating: ★★★