Central (Story) Line begins with three young children on the last train out of Nazi Germany to England on the Kinderstransport Scheme. Opening with a beautiful dance like section the three actors display the journey to their new homes. During the trip they become friends, speaking German to each other until they all separate, going to their adopted families. Meeting serval years later Louise, Henry and Charlie begin a friendship that will span their whole lives.
Beautifully directed by Daniela Atiencia, there are just three coat stands on stage, full of costume and a line of chairs. Spanning 67 years, the play cleverly transitions from scene to scene through the use of music, news announcements and pop references. When, in other shows, actors would normally disappear back stage to do an extremely quick costume change, Atiencia has the actors calmly change into the clothes of the next decade or time onstage. They do this whilst dancing along to Michael Jackson, recreating the force choke from Star Wars or singing along to Britney Spears.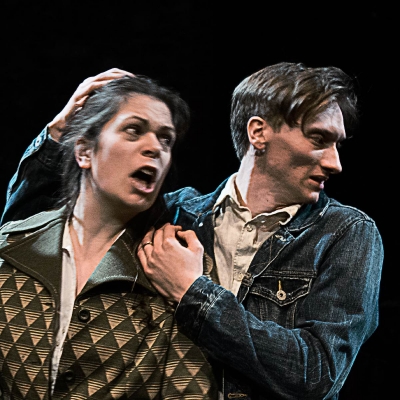 It was an ingenious way to keep the audience engaged and to give them time to realise the change in year. It also allowed the actors to stay relaxed and have fun with the scene changes. The lighting design by Phil Hamilton really complemented the story, creating the train and flaring the lights when it came to a halt. Subtle and delicate yet powerful.
Each scene was ingeniously set on a train or a tube and whilst performing the three actors had a great chemistry between them. All recent graduates from East 15 they were extremely talented, with very good accents; a twang of German in their mainly British enunciation from growing up in England. Heidi C. Nielsen as head strong Louise was faultless as she seemed to age in front of our eyes, from young child to young at heart as an old lady. Keeping the slightly rebellious nature of Louise as a child, she was able to take that through adolescence, into adulthood and even through to old age; bringing out a bottle of wine, that she 'didn't steal'. Nielsen even managed to look chalky white during a blow to the head after being involved in a protest.
Eliah Arnstjerna as Henry and Duncan Hodgkinson as Charlie both rose to the high standard set by Nielson, a real ensemble piece which was devised by the company. Arnstjerna and Hodgkinson both created genuine characters with a truthful backstory, where you really believed they had spent time together in the years that passed between scenes.
The play was smooth, sleek and authentic. Humorous in many parts and bitterly sad in others. All three actors were complete professionals and it was wonderful to sit and watch the character's lives go by. With a few twists that were unexpected and an extremely hard hitting and poignant ending, the story tied the events of 1940 to now. Fresh ideas, new talent and a great (central) story line, this play needs to be seen.
Reviewer: Caroline James
Reviewed: 10th August 2018
North West End Rating: ★★★★★