Newcomers Caratandstick Theatre bring fast-paced comedy '[citation needed]' to The Lion and Unicorn until Sunday 18th August. Running at an impressive 30 minutes, this new play by John Barron has a curious synopsis, revolving around a topic which is certainly trending at the moment: online data breaches.
When city worker Daniel, played by Graeme Saunders, experiences an infringement of his own personal data, it leads to an unlucky consequence. Discovering the culprits for the invasion of his privacy are a large media corporation, he determines to take drastic action against them. Guided in his quest by only a crazy conspiracy theorist, performed by the wide eyed and comedic Claire Durrant, it's unclear what exactly he's trying to achieve and why, but he's certainly determined to break the rules.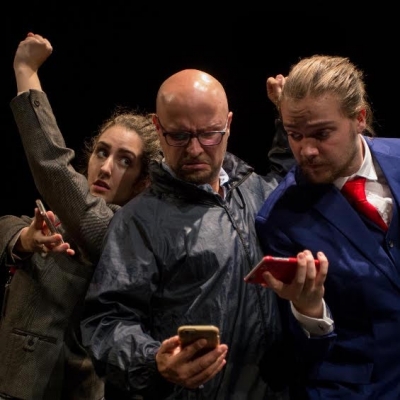 Directed by Wanda Duszynska, this light-hearted tale is frequently eccentric but thoroughly entertaining. With a minimalist set, the focus of the piece is telling the story well, to which Sanders provides a coherent and interesting narrative throughout. However, one area which has been largely neglected is the use of props. With such little set, every object presented is significant. Seeing the protagonist wear a recycled lanyard with an incorrect name was incredibly grating. Further, Duszynska has bizarrely directed her performers to break into mime at some points, including an entirely unbelievable sequence with an invisible USB stick.
Transitions are sleek and effective. Cleverly choreographed sequences accompanied by effective lighting and sound, transform the space into a train platform, lift or tube carriage. The cast move seamlessly with clear direction across the stage. The strong ensemble provides solid characterisations. Lawrence Ellis has an engaging presence as Normal Man.
Emma Duke particularly displays a talent at multi-rolling, providing a variety of accents and bold characterisations which are charming to watch.
Dialogue is mostly witty and the storyline is certainly unique, however Barron's ideas are far too ambitious to fit within such a short time frame. As a result, the story feels rushed and some characters are significantly underdeveloped. Daniel's relationship with his girlfriend is shallow at best. Saunders' decision to act so radically, risking his work and reputation, is without motivation as he appears to have nothing at stake. Nonetheless, the narrative ultimately ends with a clever twist.
Despite some flaws, the show is still well worth watching. With development, this entertaining show has great potential.
Reviewer: Isla Robinson
Reviewed: 15th August 2018
North West End Rating: ★★★