The Old House is a one woman show, written and performed by Kate Maravan. Inspired by her own real life mother, Maravan tells the story of visiting The Old House where they used to holiday when she was a young girl. This time, however, the trip is very different. Her mother's memory is fading and Maravan has her own memories she is fighting to come to terms with.
Almost reversing the roles the daughter takes care of her mother, telling her the sea is too cold and that she must come in soon, as her mother begs for 'just a little longer'.
Directed by Kath Burlinson, Maravan plays both herself and her mother. Maravan's physical differences between the two characters was astonishing. She aged forty years just with a curve of her spine. At one point mother and daughter were caught up in an argument and Maravan changed between the two so quickly and so truthfully it felt like there were two people on stage. At some points throughout a voice over was used, however, due to Maravan's incredible talent, this was a waste as it really wasn't needed and actually took you out of the play.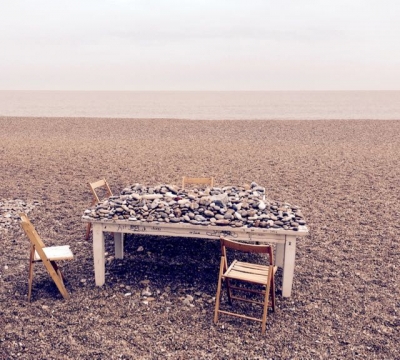 In comparison to the natural tone of the setting, beautiful soundscape by Adrienne Quartly, flowing costume and open characters it felt too modern, electronic and jarring.
The writing in this play is exquisite. Throughout the piece spoken word/poetry was used to link sections together and to echo Maravan in the play, I wish I could write it down; it is existentialism at its best.
Movement is also used during the play and although it is beautifully choreographed by Vincent Manna and is atheistically pleasing it almost isn't needed. Maravan's words are so beautiful and are so weighted with emotion already, her own physicality is enough; the movement seems superfluous.
For anyone who has a family member suffering with, as Maravan calls it 'the a word' or 'the d word', it is a highly emotional play with the majority of a full audience reaching for the tissues at various points throughout. It is completely relatable and tragic. It is also joyful and humorous as Maravan's mother does all the stereotypical things that older people who are getting forgetful might do but pushes that little bit further. She creates real life situations that from an outsider's perspective are funny but from the inside, as her daughter is, would be completely frustrating or upsetting to see.
Funny and devastating, The Old House is a beautiful tale of a very truthful mother and daughter relationship. Acknowledging the present and looking back at memories and how, ultimately, we all have to let go at some point.
Reviewer: Caroline James
Reviewed: 16th August 2018
North West End Rating: ★★★★