Brand new Theatre Company 'Tiny Room' present 'Loop' at the Camden People's Theatre until 25th August. Directed and written by Peter Mulligan, this short drama shows a snapshot of life with depression.
The story follows hopeless barman Chris, played by Kiefer Jones, whose is in desperate need to end his shift. Enter presumptuous regular Steve, performed by David Richardson, who convinces Chris it's only fair to serve him one more round. One drink turns to several and swiftly last orders become a lock in. As the pair become more intoxicated, they unveil wistful dreams and bitter disappointments. The liquor frees them to speak candidly about each other's failures, though neither seem willing to listen. The night becomes stranger when bewitched hobo Paul, a cameo from Mulligan, arrives determined to bring Chris enlightenment.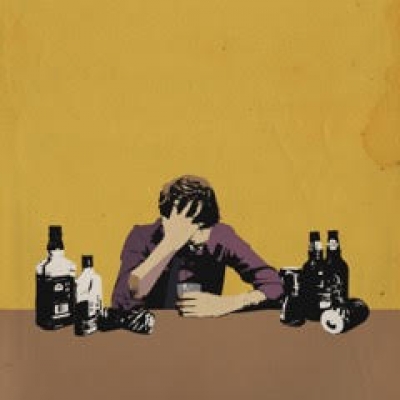 As a director, Mulligan keeps the staging simple-letting the conversations drive the story. At times attention to detail is lost which shatters the sense of realism, at one point beer bottles had their tops miraculously removed without a bottle opener. Some areas of the story require development-especially the opening and closing images. Clarification should be found in the moment of contemplating suicide, the motivation of which seemed to arise out of boredom rather than resolve.
Well cast, Jones portrayed a downtrodden and exhausted barman convincingly. One particularly moving moment was when he described vividly his aspiration to find the key to happiness. However, at moments, Jones appeared to be summoning emotions to depict depression, which felt a little forced.
Richardson arrived on stage with a barrel of energy. As an influential and manipulative businessman, his brash and direct nature brought much humour in sombre circumstances. His journey of self-realisation was intriguing, but felt a little rushed. His decision to accept his broken circumstances rather than fight against them was frustrating- but perhaps this was an accurate depiction of depression.
Mulligan as homeless mystic Paul was enchanting as he held a strong presence or perhaps aura in his stillness. He portrayed well a mysterious being haunted by a mission to change others. Paul's words used wonderful imagery to engage with Chris, the most memorable being that 'in darkness we're all the same'.
Mulligan's writing is conversational, intriguing and at times poetic. Overall a simple and interesting plot which requires some development but is still thoroughly enjoyable to watch.
Reviewer: Isla Robinson
Reviewed: 20th August 2018
North West End Rating: ★★★