With new theatre company "Pandora's Door Productions" bringing a slice of ancient Greece to North West London for the first time with their debut production "Zeus on the Loose", I went into the Cockpit Theatre completely on an unknown, not fully knowing what to expect.
Written and directed by Emma Rollason, this comedic revue of pop and theatre set in ancient Greece takes us through the love life of the Head Olympian Zeus, briefly touching on a few of his supposed dalliances and linking them together in a threadbare plot based around his wife Hera getting some revenge.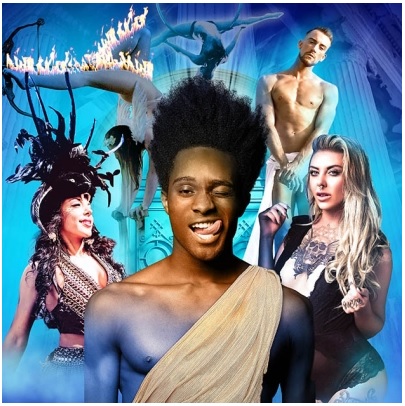 Zeus was played commendably by Darron Gifty, with a cocky command of the stage that lent itself well to the character, and I have to say… what a physique! The dancers also performed well too, doing their best with some simple choreography that I don't think really showed them off to the best of their abilities. Kyl Messios played well in the role of Hades, with a brilliant command of the audience, although he did seem to lack a bit on the vocals.
However, I did have a couple of issues with the show. Personally, I think that the plot in its entirety was a bit weak, with crater sized gaps in logic and for anyone who actually knows anything about classical civilization there were plenty of inaccuracies to stew on. In particular the end seemed fairly rushed, with some things resolving themselves and other threads being unnecessarily left to hang unsolved. Penni Tovey in the role of Hera also seemed to struggle on the night, with some slightly pitchy vocals and a bit of an immature performance for such an experienced actress, I would have loved to see more but alas.
In conclusion, while I think there is a lot of potential in this show with some strong cast members and a great concept for a piece, it ultimately falls short of the hurdle and misses this time round. While I would love to see another of this companies' productions in the future when they are more polished as a group, sadly I will not be rushing back to "Zeus"
Reviewer: Jason Rath
Reviewed: 23rd August 2018
North West End Rating: ★★