Abusive alcoholic fathers, adulterous husbands, promiscuity, under age sex, foul mouthed and drunken mothers, these are hard hitting subjects that this play is all about, they hardly seem to be the ideal subject matter for a comedy and Rita Sue & Bob Too is guaranteed to have you in tears...... tears of laughter that is!
Rita and Sue are two teenage schoolgirls earning extra cash by babysitting for Bob (Darren Day) and his wife Michelle (Stephanie Dooley, coincidentally real-time wife of Darren). Bob 'generously' gives more than the extra cash though and drives the girls home, stopping on the way where he proceeds to seduce the two girls, having sex with one then the other. With tongue in cheek, I have to say that Day is a 'bum' actor and those going to see this will know exactly why I make this comment. Day is absolutely hilarious as the hard done to 27 years old Bob, as he gives the girls a lesson on the facts of life. He has sex with Sue whilst Rita watches, then with Rita, whilst Sue watches and then secretly embarks on secret affairs with each of them but continuing with the weekly drive home after babysitting! He claims to have little sex at home with his cold wife. Is it any wonder, after cheating on her before with a babysitter she begins to have her suspicions he is up to his old tricks again? Dooley brings a sophistication to the stage with her elegant style and serving tea from a hostess trolley.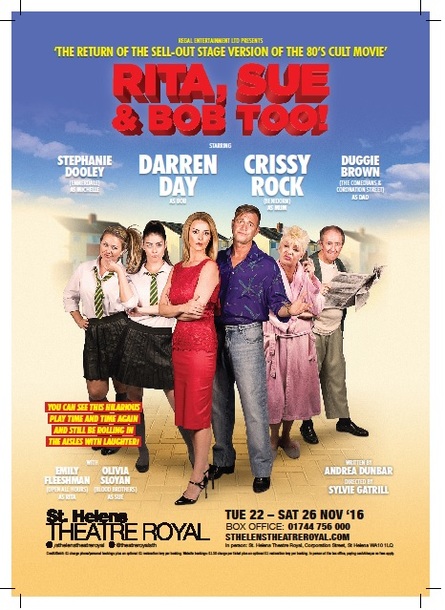 Emily Fleeshman as Rita and Olivia Sloyan as Sue, are incredibly convincing as schoolgirls and there must be many that can relate to the antics they get up to during babysitting.( I certainly can, but not the antics on the way home I hastily add)! Their girlish 'know all there is to know' chats are also filled with a naivety that can only spell trouble.
Crissy Rock as Sue's mum and Duggie Brown as her dad are hardly the perfect role models and be warned now...if you are offended by bad language then close your ears as these two let rip with every expletive possible as they row over their daughter coming home late! But it is all said and done in a way that will have you holding your sides laughing. It was almost a surprise at the end to applaud Rock and Brown and realise they were not drunk, so brilliantly did they portray their characters.
The stage is split into three scenes, the kitchen at Rita's home (complete with washing hanging across the room) Bobs pride and joy, his car and a lounge which doubles as Sue's home and Bob and Michelle's lounge. There is little in the way of scenery changes apart from a couple of countryside scenes when a curtain comes down, so it all runs very smoothly. The play also features songs of the 80's giving a trip down memory lane coupled with reference to the days of 'Thatcher' and unemployment. It does stir some thought provoking moments.
So, can Bob keep up the pretence (or his trousers!) of innocently driving the girls home or will Michelle discover his philandering ways? How will it all end? Can the girls keep their illicit affairs secret? Will the parents support their daughter?
Presented by Regal Entertainments, Rita, Sue & Bob, written by Andrea Dunbar and directed by Sylvie Gatrill is filled with 'OMG' moments that will leave you laughing in disbelief and is definitely rich in adult comedy. All of the cast are absolute stars in this production, without exception. If you haven't already got a ticket and are game for a laugh then I can only suggest you act quickly and contact: http://bit.ly/2fyr6iV
Reviewer: Lorna Weekes
Reviewed: 23rd November 2016
North West End Rating: ★★★★