This evening seen the opening night of All or Nothing – The MOD musical at Chester's Storyhouse. Before the performance tonight we were due some very special scooters outside with cast members for photographs but sadly the weather had other ideas so unfortunately this could not take place. This did not dampen the excitement in the foyer area as people arrived.
There was wonderful merchandise available which was brought together and designed by cast member Alfie Harrison-Foreman who was not only busy playing numerous characters in the show but made sure he was available before the show, during the interval and after the show to personally help sell. Very impressive.
All or Nothing sees the rise and fall of the 60s band, Small Faces. We are taken through this story by the "ghost" of their lead singer, Steve Marriot, played by TV and stage actor Chris Simmons. Simmons narrates the show and spends the majority of the show either on stage or somewhere in the audience. He played Marriot extremely well and did a great job helping to deliver this, in a way, quite sad story.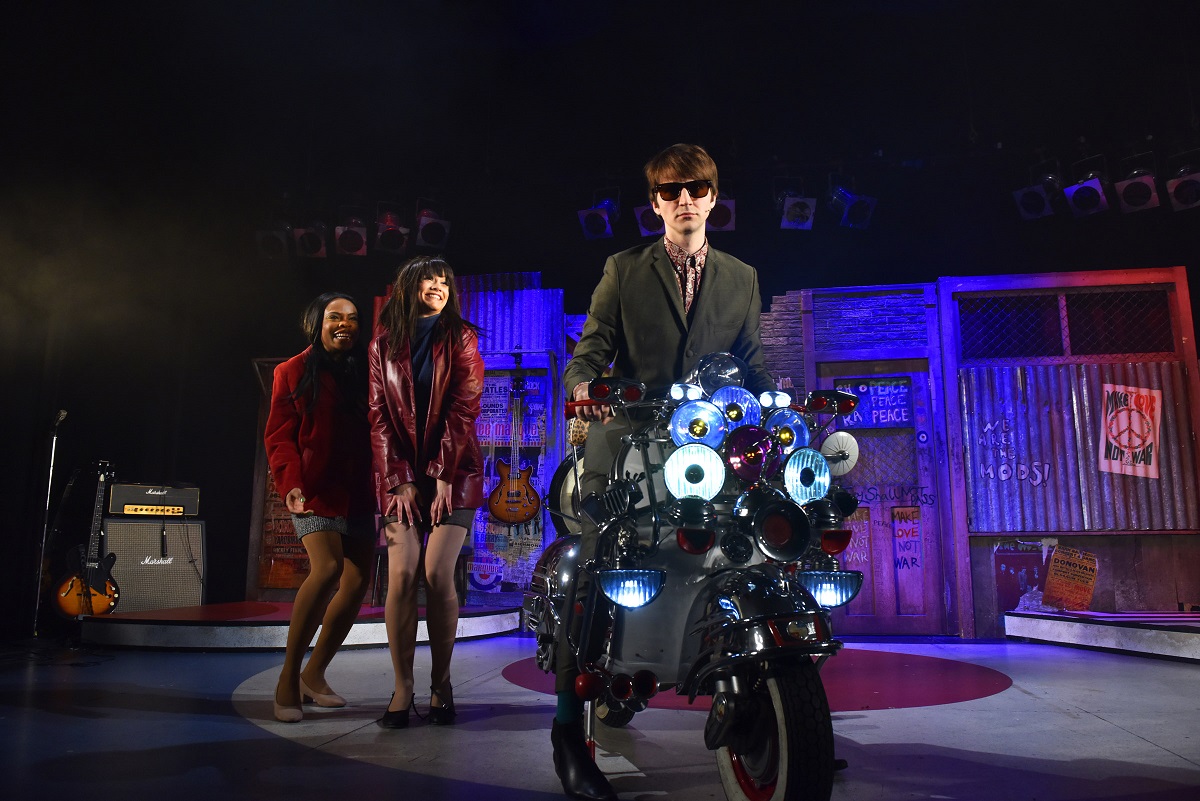 All or Nothing was written and directed by another stage and screen actress, Carol Harrison, who is kept even busier by playing numerous roles in the show including Marriot's mother, Kay.
The band itself consisted of four very talented guys – Young Steve Marriot (Samuel Pope), Ronnie Lane (Stanton Wright), Jimmy Winston (Martin Teall) and Kenny Jones (Stefan Edwards). Winston was replaced early on – 1966 - by Ian McLagan (Alexander Gold). These guys delivered their characters extremely well and impressed me even more by playing all their own instruments.
Each character told their part of their story, which sadly did not turn out as they intended, getting completely ripped off by their management and left with nothing. It took them over 20 years to receive any of their royalties and sadly by that point, two of the band had passed away.
The set for this show was pretty simplistic, mainly moved on and off by cast but worked perfectly well.
Lighting seemed to have a few issues early on, perhaps due it being the first day in the theatre, a few actors not fully lit or it seemed just a little too dark in certain scenes but this was soon rectified and the lighting for the rest of the show was awesome.
Choreography by Cameron Hall was pretty impressive and fitted very well with the era as did the costumes. Perfect for the 60s and the MOD vibe.
A downfall for me was the length of the show for the content included. In my opinion there were some parts that could have been shortened and there were many, many characters brought in, seemingly just to mention more names, who weren't seen or mentioned again. These characters were played well by supporting cast but I feel not all were vital to the storyline. I feel the story could do with a bit of a tighten up and possibly a slight re-focus in parts.
Personally, I only knew one or two songs and so, although everyone worked hard to deliver a wonderful show and the songs and acting were delivered faultlessly, I was left feeling a little lost and slightly underwhelmed compared to my expectations at the beginning.
If you're a fan of Small Faces or the MOD era, this show would be perfect for you.
Running until Saturday 30th September https://www.storyhouse.com/event/all-or-nothing
Reviewer: Damian Riverol
Reviewed: 27th September 2017
North West End Rating: ★★★