Powerful Performances brought Four Ovations
Written by Willy Russell, Blood Brothers, directed by Bob Tomson and Bill Kenwright, tells the captivating and moving tale of twins who, separated at birth, grow up on opposite sides of the tracks, only to meet again with fateful consequences in a production that pays homage to Greek tragedy in its styling and structure.
Originally developed as a school play, it debuted in Liverpool before commencing a West End run in 1983. Although society has changed much since then, the issues of poverty, class divide, teenage anxieties and middle age remorse which it explores, against the backdrop of a compelling musical score under the direction of Kelvin Towse, still resonate today, as we follow the story of Mrs Johnstone (Lyn Paul), a struggling single mother who, unable to feed the mouths of her many children, is compelled to give one up to the middle-class, and infertile, Mrs Lyons (Sarah Jane Buckley) and her husband (Tim Churchill), for whom she cleans. But, in a suitably Faustian tribute, this pact comes with a warning from our suave but sinister Narrator (Dean Chisnall) about the price they will one day have to pay.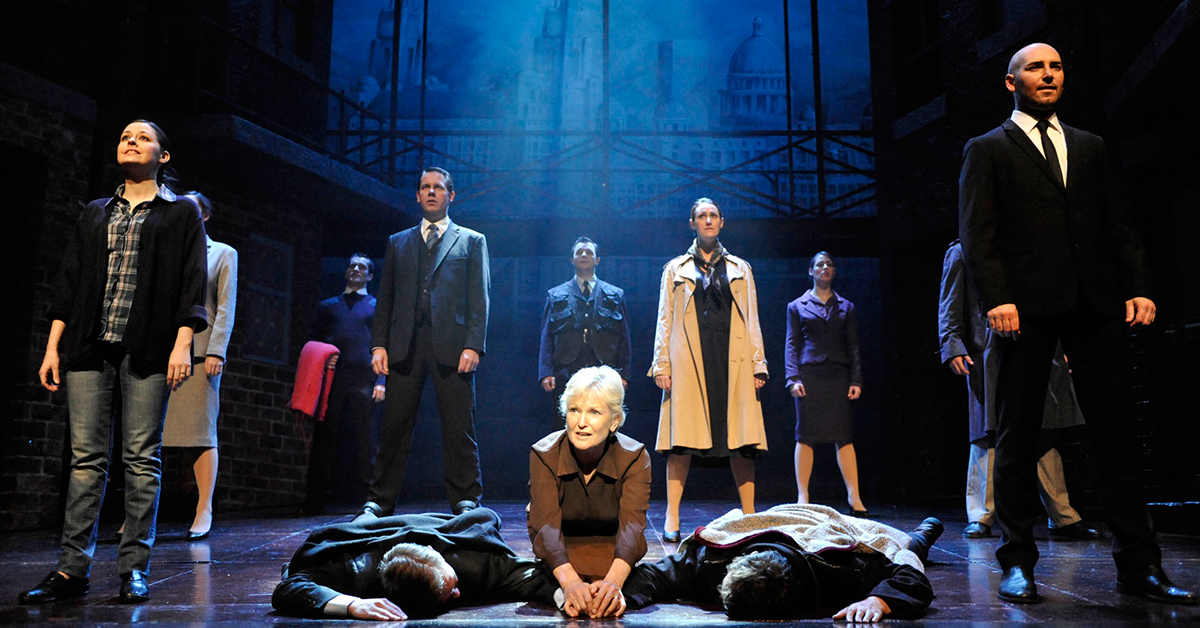 Yet amidst this foreboding the comedy unfolds as we observe the mischievous Mickey (Sean Jones) growing up in the Liverpool slums before the move to the new town of Skelmersdale hints at opportunities that will never transpire. The children's scenes in conjunction with older brother Sammy (Daniel Taylor) and Linda (Alison Crawford) are a delight. In contrast, Eddie (Mark Hutchinson) grows up with the very opposite circumstances of favour and fortune and yet, as with all children, when they meet up at 'almost eight', these things count for nothing. It is only in the second act, as they move into adulthood, that external pressures come to reality and sadly begin to mean something.
Excellent support in a variety of roles is provided throughout by Graham Martin, Amy-Jane Ollies, Andy Owens, Josh Capper, Graeme Kinniburgh, and Suzi Power. The stage backdrop by Adam Walmsley perfectly captures the recognisable skyline of Liverpool as well as the harsh realities of terraced life. Smartly executed drop sets complemented by Nick Richings lighting design allows the play to flow smoothly with the ever-changing atmosphere recognised by sound designer Dan Samson.
There is much to applaud for the lead roles: Paul made her debut in musical theatre with this play some twenty years ago and is considered the definitive Mrs Johnstone. Chisnall maintains the momentum throughout, adeptly stepping in to break up the humour and eerily remind us what fate has in store. Our brothers, Jones and Hutchinson, give real depth and feeling with their performance and it hurts as we watch their hopes being hurled away. Taylor was in his element as his young tearaway became an older tyrant. I particularly enjoyed Martin's many roles to each of which he brought an indefatigable spark.
But if I must single out one star tonight then it is surely Crawford who, originally listed to play Brenda and other support roles, stepped up late to take on the role of Linda and shone brightly throughout from tomboy to teenage tease, and as love and hope fell away to sad despair. I look forward to seeing her future work.
Storyhouse is Chester's brand new £37m theatre, library, cinema and arts centre. The restored and revitalised 1930s Odeon building now houses an 800-seat auditorium, a 200-seat studio theatre, a restaurant and two bars and a 100-seat boutique cinema. Further details https://www.storyhouse.com/
Blood Brothers performs at Storyhouse through to Saturday 14th October 2017 before continuing its UK tour. Further details http://www.kenwright.com/
Reviewer: Mark Davoren
Reviewed: 9th October 2017
North West End Rating: ★★★★★