The Saint Petersburg Classic Ballet are currently on their third UK tour where they are presenting three classic Ballets- The Nutcracker, Swan Lake and Giselle which they staged especially for their UK debut and this is the production I attended, which to my delight was accompanied by a live orchestra.
Composed by Adolphe Adam and choreographed by Jules Perrot, Giselle was first performed in Paris in 1841. Giselle tells the story of a peasant girl Giselle who she falls in love with Albrecht, who although disguised as a peasant, is actually aristocratic Duke of Silesia, who is already betrothed to another. Giselle subsequently finds out her love is to marry another and dies of heartbreak. Act 2 then takes us to the supernatural world of the Wilis who are the spirits of betrothed girls who died of heartbreak when their lovers were not faithful. In the clearing of a forest, Giselle is summoned from her grave to join the Wilis in luring Albrecht to dance in the moonlight until he dies of exhaustion, but because for the profound love she still has for him, she pleads with the queen of the Wilis for his life and he's spared.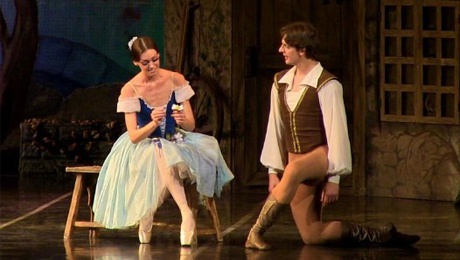 I have never seen a Ballet before so I was a little apprehensive that, with their being no dialogue, I wouldn't understand what was going on. But I needn't have worried. Their movements, the music and the emotions on the dancer's faces told the story perfectly. This story has stood the test of time in a way other romantic Ballets haven't. If you are apprehensive about seeing a Ballet, don't be. Giselle was universally relatable despite its age.
My favourite of the Acts was Act 2. In stark contrast to Act 1 which was lively and colourful, Act 2 was serine, ethereal and peaceful. The scenery was simple yet effective and the atmosphere was perfectly created with bright white light and dry ice billowing across and down, off the stage.
Formed in 1996 and directed by Marina Medvetskaya, it was clear to see that the Saint Petersburg Classic Ballet has rounded up some of the best young Ballet. The dancers were undoubtedly fantastically talented. Their stability, height of their jumps and their grace was marvellous and it was impossible not to be impresses by the elegance of 18 ballerinas all dressed in white wedding gowns doing their Ballons and Arabesques in perfect unison.
Unfortunately, here are some negatives:
I couldn't help but feel like the stage was too small and the show definitely suffered from this. It often felt like the dances were unable to perform their movements to their fullest extent and it appeared to stifle the dancers as if they were nervous to crash into each other. There were visible pile ups in the wings as when dancers were exiting the stage, again making it seem like there also was not enough room in the wings.
From where I was sitting I could also see straight into the wings. This broke the illusion and atmosphere the show was creating as moments that should have remained unseen were very visible. When dancers were coming off stage you could see them racing around to the other wings in order to enter again. Other distractions that should have been private included costume changes, make-up touch-ups, dancers sitting down waiting for their moment to come back on stage and the director pacing up and down the wings. All of these were hard to ignore and pulled me out of the story.
Despite this I enjoyed the show. It is hard not to be impressed by such amazing talent that takes years of discipline and dedication. Prima Ballerina Natalia Romanova was captivating, she fluttered around weightlessly.
The Storyhouse has quickly become one of my favourite venues, it has a great feel to it, the staff are lovely and I'm always welcomed graciously. Although at the Storyhouse, The Saint Petersburg Ballet are on the last leg of their tour and penultimate venue, you will still be able to catch them at the Jersey Opera House until the 24th February.
Reviewer: Lowri Hiles
Reviewed: 16th February 2018
North West End Rating: ★★★