Oh dear, as someone who has absolutely no interest in Monty Python having only briefly seen clips on TV and decided that it was not for me, it was with some lack of enthusiasm that I took my seat at this evening. Not all will be lost though, for my husband accompanying me, this is right up his street, so I will be gracious and allow him this one indulgence.
So where do I start? Okay, based upon a book written by Eric Idle and the film of Monty Python and the Holy Grail, the silliness starts at the very beginning and continues throughout. The plot, (yes, there really is one under the mayhem) focuses on King Arthur and his band of dubious, sorry, noble Knights of the Round Table and the search for the Holy Grail. Sounds straightforward? Well anything could happen and in this musical that first aired in 2005 it certainly does.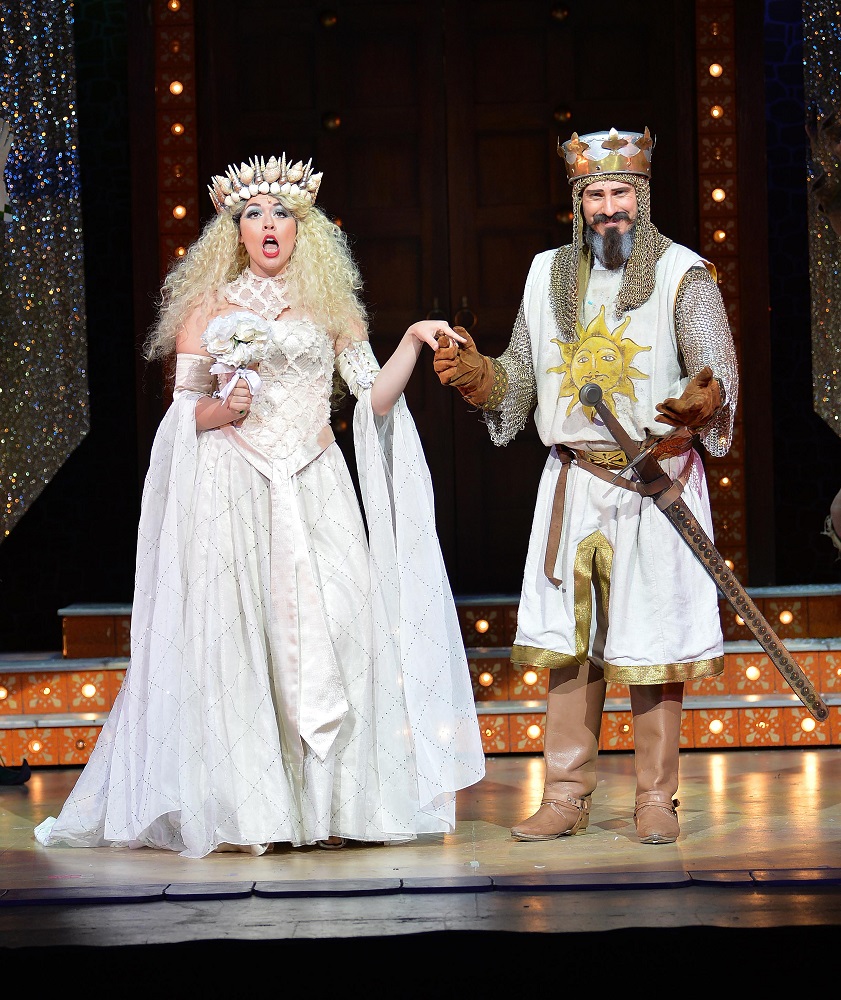 The opening fish slapping scene just about sets the tone and I have to give in from the very start and a smile was in danger of breaking out on my face. As the show continues there are encounters with French soldiers, Knights who say 'Ni', a Black Knight, dancing nuns, a deadly bunny and even a 'damsel' in distress! When King Arthur (Bob Harms) makes his entrance onto the stage on imaginary horseback followed by Patsy (Rhys Owen), his trusty downtrodden manservant, who uses coconut halves to recreate the sound of the clip clop of horses hooves, I am hooked. There is a completely pointless, but very funny conversation with two sentries as to how coconuts could possibly have been found as they are not native to the country, totally side tracking the original mission.
Harms bears a deadpan expression and his total belief in himself as King Arthur (of the Britons) and playing the straight man to the others is absolutely hilarious. All the Knights, Sir Lancelot (Johnathan Tweedie), Sir Galahad (Norton James), Sir Robin (Stephen Arden), and Sir Bedevere (Marc Akinfolarin) and Prince Herbert (Matthew Pennington) bring jesting and farce at its finest to the stage with supreme comedic timing.
Sarah Harlington as the Lady Of The Lake is simply quite stunning, her vocals are powerful and pitch perfect and her teaming with Norton James for 'The Song That Goes Like This' is fabulous as they play off each other with great comedy effect. Harlington's performance of ' Whatever Happened To My Part' highlights the wonderful diva in her. Throughout the show, music is performed live by a superb band and exquisite dancers.
A visit to Camelot is more Vegas than medieval adding to the complete absurdity but works so well. Spamalot is real side-splitting stuff and it is not often I laugh out loud but that all changed this evening as this musical puts over a ludicrously scripted story. I'm quite at a loss as to what I have just attended but suffice to say I thoroughly enjoyed every minute, despite my misgivings and although one or two moments may have gone over my head with their 'Pythonisms', it no way detracted from my enjoyment. It struck me just how amazing all the songs were performed this evening by other performers too and the lack of a top billing star, cue song 'You Won't Succeed In Showbiz', does not matter one jot. No-one could put more into a performance than this cast. It's crazy, it's downright daft and bizarre but most of all highly polished and choreographed.
Although I doubt I will be converted to TV and film versions, I can honestly say I left the theatre on a high and I imagine, along with many others, that damn song 'Always Look On The Bright Side of Life' is still going on in my head! Well worth a visit whether Pythonians or not!
Grab your coconuts and hoof it along to the Floral Pavilion, current trot until 7th April 2018, tickets: https://www.floralpavilion.com/en-GB/shows/spamalot/events
Reviewer: Lorna Weekes
Reviewed: 3rd April 2018
North West End Rating: ★★★★