Flat Pack Music present a highly entertaining performance in English of Puccini's famous four-act opera with this intense and moving production from Musical Director Tom Newall and Director Emily Howard.
The play is set in Paris in 1830 where on Christmas Eve we meet four struggling but good-humoured bohemians living in a garret: poet Rodolfo (Joseph Buckmaster), painter Marcello (Phillip Clieve), philosopher Colline (Daniel Hayes), and musician Schaunard (David Cane), who arrives having had some good fortune and they agree to celebrate by dining out. They are interrupted by their landlord, Benoit (Samuel Jackson), but cleverly trick him to avoid paying their rent for another week.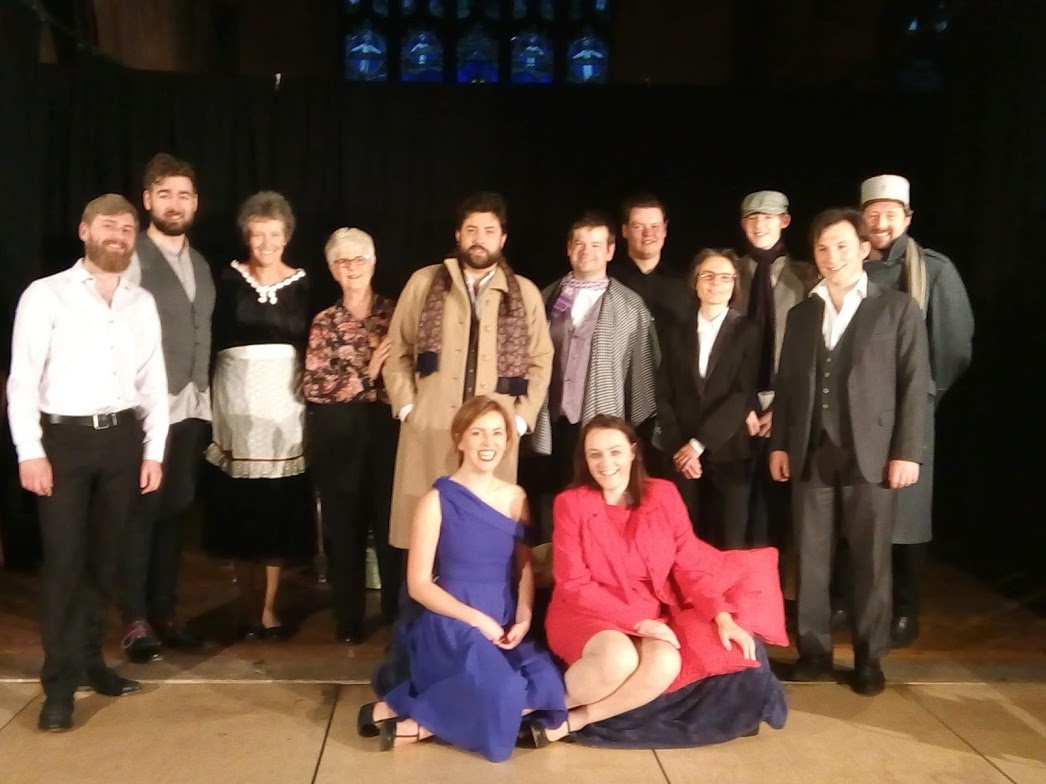 Whilst the others leave, Rodolfo remains to complete an article but is interrupted by a knock at the door: a young girl needs to light her candle but then becomes faint. He helps her recover then she realises she has lost her key; as they search together he discovers her name is Mimi (Heather Heighway). They declare their love for each other before joining the party in the hustle and bustle of Paris' Latin Quarter where a former lover of Marcello, Musetta (Jessica Hope) appears with a rich and elderly admirer, Alcindoro (Jackson) in tow, and to his embarrassment she sings a risqué song to garner Marcello's attention. The first half closes with an immersive and intimate duet from Heighway and Buckmaster that leaves us to wonder if the hope and humour will continue or whether the underlying trauma and tragedy will inevitably come to the fore.
You've got to know what you're doing to take opera in a slightly different direction and Flat Pack Music have that in droves as this superb production perfectly fills the void between traditional opera and the more recent musical interpretation of Rent, with the the English language translation adding to the audience's appreciation of superbly performed arias from the cast.
With support from Mark Rawlinson, Atie Doesberg, and Joan Ireland, all the cast perform well with strong acting and comic skills to the fore demonstrating an attention to detail that naturally lifts this production above the norm. Clieve captured the brashness of painter Marcello perfectly whilst Hope's sassy Musetta was his perfect foil. Buckmaster simmered with emotion as lovestruck Rodolfo while Heighway's Mimi's moving performance touched every emotion. The humour and parody of Clieve/Hope perfectly offsets the drama and intensity of Buckmaster/Heighway. A special mention to Jackson who stepped in at two-day's notice and performed admirably in his dual-role.
Conductor Helen Harrison perfectly orchestrated the on-stage action with the piano of Tomek Pieczora in the intimate staging of St Mary's (https://stmaryscreativespace.co.uk/) which only added to the pleasure of what is one of the most frequently performed operas worldwide. The staging was simple yet effective – less is indeed more – with changes managed seamlessly by the cast and I particularly liked the use of black and white through the set and costume with interjections of colour from the female characters.
Flat Pack Music aims to bring Opera and Classical Music to the wider public in a fresh and original way that showcases not only the depth of the music, but also the comedy and the drama in equal measure. They want to present opera in a relaxed way that people can readily enjoy; they want newcomers to fall in love with the music, drama and excitement of opera, and for old hands to enjoy a new take on old favourites. With English libretto's they find that it gets to the heart of the action, which audiences can understand and enjoy. Further details including their upcoming productions can be found at https://www.facebook.com/FlatPackMusicSeries/
Reviewer: Mark Davoren
Reviewed: 16th June 2018
North West End Rating: ★★★★★