Desert Islands, Pirates and ships, we are taken on an adventure with the Walker children on their summer holiday. Made by Storyhouse brings this new stage version of children's classic, Swallows and Amazons, adapted by Bryony Lavery to the Grosvenor Park Open Air Theatre. A story of childhood, adventure and friendship.
We follow John, Susan, Tatty and Roger as they go on their summer holiday on a camping trip to an island by the lake. They want to go on an adventure and set sail to Wild Cat Island, but their Mother and Nurse worry they will get in to trouble. Not wanting to ruin the children's imagination, Mother and Nurse decide to watch from afar and allow them to live their adventures.
On Wild Cat Island, Captain John and his crew, the Swallows, start their adventure when they come across local children Nancy and Peggy, the Amazons, and prepare for battle to decide who is the rightful owners of Wild Cat Island. As they go along, they come across Captain Flint who is writing his memoirs and is not so nice to the children and so becomes the enemy. Finding an enemy brings the gangs together to fight against Captain Flint and in turn become the best of friends. We come across many other characters along the way, some fantastic puppets and a wonderful story.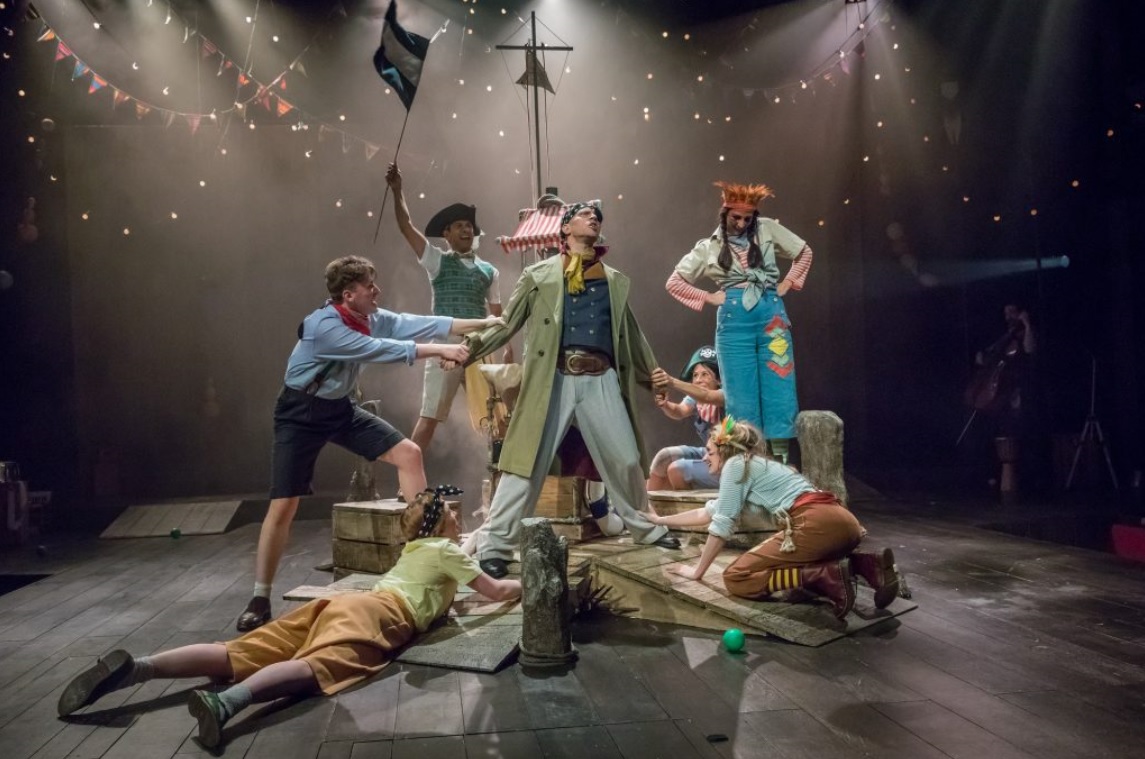 Katie Posner directs an extremely talented bunch of actors in Swallows and Amazons, one of three plays they are taking on at the Grosvenor Park Theatre this summer, along with Much Ado About Nothing and The Tempest. Directing a play in this theatre must bring its problems and differences but Posner makes it look like a doddle. Played in the round, the actors use every but of space they can, entering and exiting from many different places to keep the piece moving along smoothly.
This wonderful cast give everything to this story including playing all the instruments and bringing all the extra pieces of set on as and when it is needed, including boats with cast in and numerous puppets throughout including birds, a parrot and the baby, Fat Vicky. Matt Hutchinson has done an incredible job with the puppets and puppetry.
The standout for me was Mitesh Soni as Roger who created a perfect child throughout the whole play. The childish voice, the youthful mannerisms and wonderful faces he pulls throughout keeps the audience fully involved. Ian Harris as the children's worrying Nurse is hilarious, popping up all over the place to ensure the children are safe. Captain Flint played by James Weaver is a glorious character and integral to the story. He shows no matter your age, you should never forget the child within and stay youthful at heart.
It is wonderful to see this cast work so hard to deliver their adventure and invite the audience along with them.
The music composed by John Biddle was extremely fitting for the story and made the atmosphere electric like you could feel what the children were experiencing.
As this play was outside in the day time it is hard to mention lighting as they could not be seen due to natural daylight.
This story is perfect for the summer and should be enjoyed by all, children and adults alike.
Remember, never forget the child within as it is always there just waiting to come out to play.
Reviewer: Damian Riverol
Reviewed: 21st July 2018
North West End Rating: ★★★★★