Youth theatre group, Royal T Drama Academy, hold their annual production every August at St Helens Theatre Royal, with previous shows including Grease and Bugsy Malone. This year, the young cast did not disappoint as they performed a lively stage version of the 2006 Disney Channel Original Movie, High School Musical.
Directed by Si Foster, the show sees basketball player Troy Bolton (Tom Hardie) and science geek Gabriella Montez (Roisin Cook) break the social boundaries within their school by defying the 'Status Quo', trying out for the lead roles in their high school's musical. Despite sabotage attempts from well-played diva, Sharpay Evans (Olivia Forshaw) and her shadowed twin brother Ryan (Elliot Bailey), Gabriella and Troy's friends put aside their differences to be 'All in This Together' and help them reach their dreams.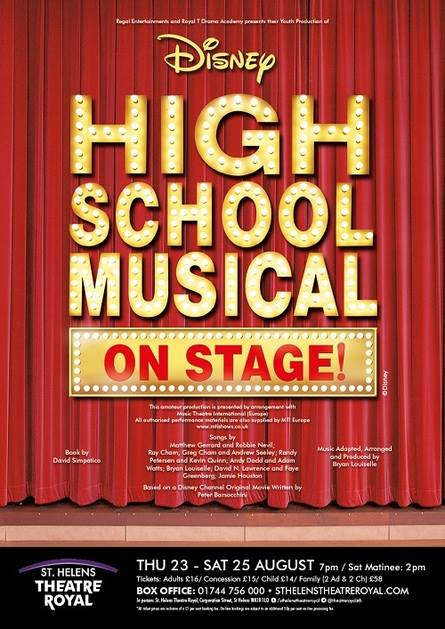 The comical genius of Bailey and his stage presence were unmissable. The young actor graced the stage with such confidence, often saving his peers from moments where nerves were getting the best of them; a true performer. Another special mention must go to Gabriella's friends, Taylor (Izzi Watkins) and Martha (Emily Caldwell), who are both clearly exceptionally talented singers and dancers, providing energy to some slightly slower moments.
First-night nerves palpable in several moments of Hardie and Cook's performance had eventually disappeared by the end of the show, with the leads finally seeming relaxed during the fun finale. With a little more confidence and training, the evidently talented pair will one day make wonderful performers.
A fantastic and changing set creates a great American high school atmosphere, supported by an array colourful costumes worn by the chorus of over 50 children ranging from ages six to 18. Despite such a variety of age groups, the large company work well as a cast, with each individual undoubtedly committed to performing to their best ability whilst supporting their peers.
Jade Harrington's impressive choreography is a highlight of the production. Harrington brings an electricity in high-energy routines and musical numbers, from the complicated basketball routine 'Get'cha Head in the Game' to the memorably jazzy 'Bop to the Top'.
Although often flawed by some wobbly American accents, noisy set changes and minor costume mis-haps, the group put on a great show. The stage is brought alive by the sensational big group numbers involving every member of the large company. Undeniably, a thoroughly enjoyable production by an extremely talented cast of young people, who should be proud of their hard work.
Reviewer: Jessica Battison
Reviewed: 23rd August 2018
North West End Rating: ★★★