Have you ever been to a show and known absolutely nothing about it? Not what it was about, none of the songs, not even the name of the show? Well, that's what an evening watching 'Showstopper!' is! Blind faith and a love of Musical Theatre!
The house lights don't dim, but a phone rings and Sean McCann (the narrator/director) enters the stage. He sets the scene well. The producer wants a brand new musical written by 9.30 this evening. But it's all ok, there's a big writing team (the audience) on hand to help! McCann then asks the audience for suggestions for a location (ours were a cloud, John Lennon Airport, a cat café, a go karting track and the bake off tent) and a vote, through cheers, the latter is the decider. Following that we get four musicals that the cast will homage in their songs (Kinky Boots, Mack and Mabel, Priscilla: Queen of the Desert and Miss Saigon). Now all we need is a title. There was a resounding laugh and cheer at the suggestion of 'Soggy Bottoms' and none of the other suggestions even came close, so there was the title. And now we were ready. Time to bring on the cast and write this musical!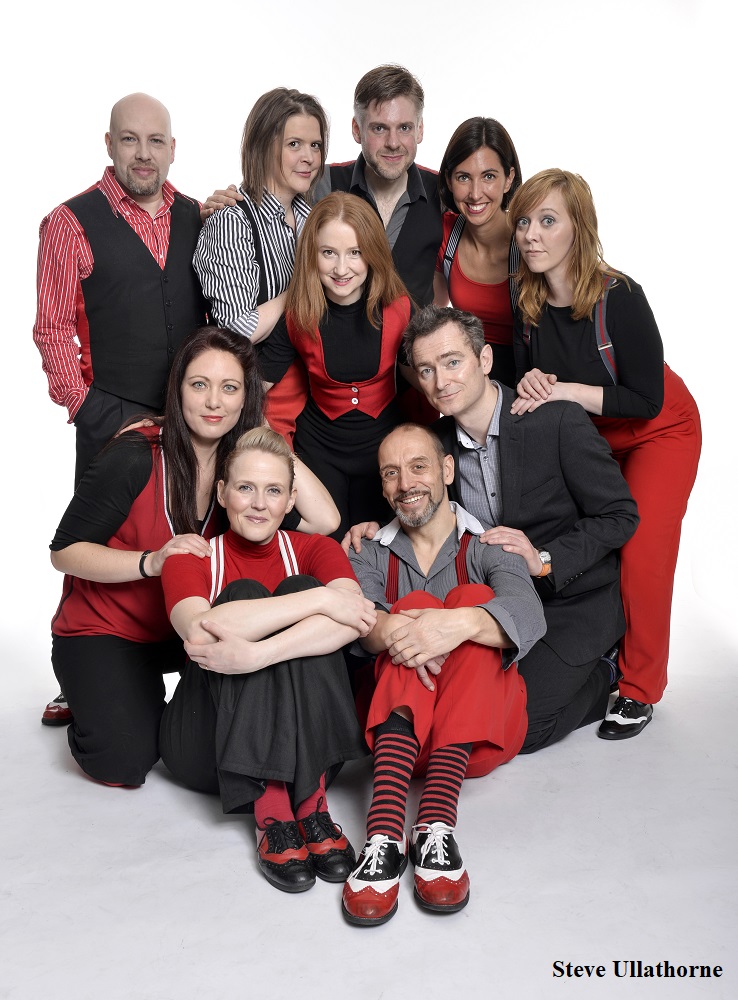 The opening number, included the five cast members who would be playing all the different characters throughout the evening. We were introduced to the main three contestants, Michelle (Ruth Bratt), Maggie (Lauren Shearing) and Simon (Philip Pellew). Michelle and Maggie are strong contestants and Simon is one of the worst, whose biscuits were crap. Sandy Toksvig (Susan Harrison) and Pru Leith (Bratt) decide to send Simon on a date with Pru to try and spice up his life and give him some backbone. This then leads to a song about Goodison Park, trying to give Simon some spark, which ends up with Simon cheating in the custard challenge, and Paul Hollywood (Joshua C Jackson), who is now an Italian Scotch Egg chef, ends up falling in love with Simon.
During the interval, suggestions are encouraged via the Showstoppers twitter page and at the start of Act 2, some are read out and some may be taken on board. As Act 2 starts, we hear 'Sex is in the Cake', we also watch Michelle and Maggie declare their love for each other and Simon reveals he's been cheating. We also hear an homage to Waitress, as Simon learns how to bake properly. The stand out scenes were the scene in which every actor played every role, and the scene in which Simon asks Paul for forgiveness and Pru, Sandy and Noel are eating cake face first off the table!
The cast were all outstanding, their ability to think and sing so quickly on their feet is definitely something to be admired, especially whilst being funny and comedic at the same time. Their knowledge of musical theatre is clearly vast, along with the musicians (Jordan Clarke and Alex Atty) who could play anything on cue.
I can't remember the last time I laughed as much as I did at Showstoppers! A fun evening that can be enjoyed by all the family, and a different experience every visit, but still guaranteed to make you laugh!
Reviewer: Jenn McKean
Reviewed: 20th September 2018
North West End Rating: ★★★★★