Prior to this evening I'm mildly embarrassed to say that my knowledge of Brian Blessed and his career was somewhat limited. I knew he was an actor and I knew he was 'the one with the booming voice' – but other than that I'd be hard pushed to speak in further detail about any of his achievements.
Fast forward two hours, following an evening of heart-warming, side splitting and spell binding storytelling, it's safe to say that Blessed has accelerated himself into my consciousness to the point where I feel the need to scour the internet in an attempt to catch up with all that I've missed. It's the equivalent of running off to tell an acquaintance about a band you've just unearthed, to find that your wiser companion has all the previous albums and has seen them on tour numerous times leaving you feeling a bit daft that you've only just discovered them.
A set consisting simply of a chair and table, with two bottles of water, of which neither were touched was more than enough for Blessed. With his charisma, wit and of course, booming voice he recalled stories of his childhood, youth and subsequent career to a packed Floral Pavilion. From the moment he stepped on stage to the theme music of 'Flash Gordon,' he had the audience in the palm of his hands.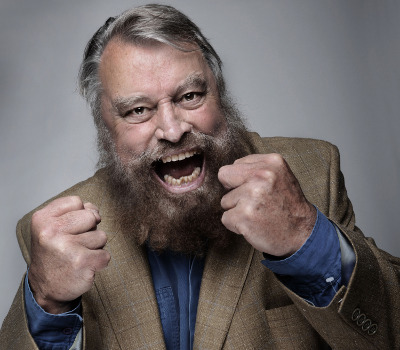 He paced the stage and engaged with some late comers before momentarily sitting down and talking about the two to three thousand animals he's rescued. Thanking the audience for paying money to come along, he explained that the proceeds of his shows goes towards his rescue work and saving animals such as leopards, tigers and elephants, declaring 'I haven't got a penny to scratch my arse with.' With that, he tells of his upbringing in Yorkshire and being at home to see his dad return from work as a coal miner, covered head to toe in black coal with a torch on his head. He sensitively told a story about how he'd wash his dad's back before bursting into a hysterical recount of growing up in the neighbouring village to Patrick Stewart. Stewart, who was slightly younger than him, would follow Blessed around attempting to talk him out of whatever mischievous acts he'd indulged in. 'Don't do it Brian,' was Stewart's standard response. He recalled how they both dreamed of being actors and how they attended Bristol Old Vic, before he went off to work for the Birmingham Rep Theatre and the Nottingham Playhouse.
There was humorous stories involving the likes of Peter O'Toole, Bill Roache, Kenneth Branagh and Sir Ian McKellen as well as his brief thoughts on Brexit – 'I thought it was a chocolate biscuit.' He even prompted rapturous applause following his rather choice assessment of Donald Trump. Elsewhere, everyone from the Queen to the Dalai Lama were mention, highlighting the eventful life that Blessed has lived.
The manner in which Blessed moved between playful anecdotes to infectious wonder of everything from the beauty of humanity to dust blowing on Olympus Mons on Mars, was a sight to behold. His mind raced and he occasionally forgot where he was up to in his stories, often stopping and escaping into deep thought before returning to either finish the tale or move on to something equally as captivating.
He boldly states on more than one occasion that he fears nothing and explains how at the age of 82 he has recently completed 800 hours of space training at Star City in Moscow and a further 800 at Reunion Island with NASA. His love of life is contagious and being in his company certainly provides food for thought about how you view your own life and existence. I left the theatre feeling energised and feeling as though I'd not so much seen a performance but been part of an experience. Blessed explained during the show how he likes the lighting to be turned up so he can see the audience as they are as much part of the evening as he is. He wants to break the fourth wall and be present with those who have come along and he certainly succeeds in enabling you to feel as though you were part of.
An evening with Brian Blessed goes beyond a night out listening to a bloke off the tele. This was a lesson in how to connect with others, of taking and making opportunities and of being comfortable in your own skin, just like Blessed does. He's a remarkable individual.
Reviewer: Matt Houghton
Reviewed: 21st September 2018
North West End Rating: ★★★★★