The Wizard of OZ was the first show I seen when I was just five years old. I've seen numerous versions over the years but the Storyhouse version is the only one that transformed me back to being five, making me feel the same feelings and emotions of utter joy and heartbreak throughout.
Made by Storyhouse they have returned with their Christmas show, The Wizard of Oz, and director Alex Clifton and Choreographer Carl Parris have managed to keep the heart of the classic yet bring so many aspects right up to date with current dance styles and new ways to tell the story.
The set was wonderful, taking you from a small barn house using only a small portion of the stage to using the full Storyhouse stage. Production designer James Perkins along with lighting designer Prema Mehta have done a wonderful job creating different places of Oz with slight set changes and fantastic use of lighting and colour change to pick out area changes. Costumes are fantastic with a current, contemporary feel to them.
The Wizard of Oz is a coming of age story of a young farm girl who dreams of bigger things and other lands and with the use of a great imagination, helped along with wonderful visual aids, you are taken along this journey with Dorothy where she gets lost in a land over the rainbow and is led to realise that "the other world" isn't always the best place to be and there really is "No place like home."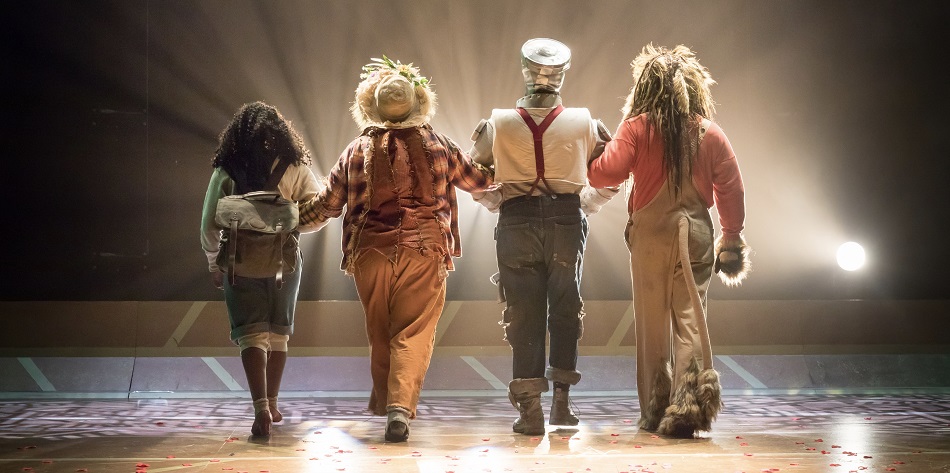 Consuela Rolle brings Dorothy to life with so much passion and energy, carrying the whole story and the audience along with her on her journey. Rolle really delivers in the role and adds such an innocence yet courageous spirit to Dorothy.
Dorothy's three friends the Scarecrow, Tin Man and Lion really stole the show for me. They were larger than life and added so much joy and laughter to the story.
Natalie Woods brings the Scarecrow to life with so much energy, including a lovely tap dance routine and was so full of energy and excitement. Ben Oliver delivered a fun-loving Tin Man with a huge heart, even when he thought he didn't have one and Richard Colvin as the Lion delivered my favourite character of the evening. Playing the big scaredy-cat with such fun, bringing many laughs to the audience and the most wonderful, powerful singing voice, using this to his advantage to add more comedy to the role.
Zara Ramm as Miss Gulch/The Wicked Witch of the West delivered fantastic characters and threw herself into the Wicked Witch bringing that mean, nasty side but adding plenty of humour to the role.
Kenny Thompson played a nice Uncle Henry and a brilliant Emerald City guard, Natasha Bain was a strict yet fair Aunt Em as well as Glinda the Good Witch of the North. The Wizard was delivered very well by Fergus Rattigan with a firm yet witty attitude, Rory McNerney was a great Jitterbug and Megan-Hollie Robertson was a terrifying Nikko, the Wicked Witche's Monkey.
As with all Made by Storyhouse shows, they bring in three Trainee actors to be part of the show and this year seen three fantastic young ladies, Ciera Evans, Caitlin Harwood and Cerian Young who did a wonderful job of filling out numerous roles and added to this joy of a story.
A huge group of Munchkins and a community Ensemble all worked brilliantly together to bring this story to life.
There were a couple of moments that I felt went on a little long causing the audience to lose attention, especially in the Jitterbug dance where it is very dark and hard to keep concentration.
There are many fantastic parts to this story but Storyhouse have created some wonderful scenes including the Twister and the poppy field which created an excited feel through the audience. It was a joy to witness the reactions of the audiences from the giggles of small children to the laughs of full grown adults and to go through a whole range of emotions myself made it that little bit more special to me. A wonderful, heart-warming story right here in Chester for Christmas.
Reviewer: Damian Riverol
Reviewed: 13th December 2018
North West End Rating: ★★★★