ANYONE who has ever been involved in even the smallest way with amateur dramatics societies will know there are never any vulgar cliques or hidden agendas, nor is there ever any bitchy backbiting, nor ever a hint of an attempt to influence the selection of productions or, God forbid, any manoeuvring or angling for roles.
Or maybe not . . . in which case this play by Frank Vickery will ring enough bells with amateur dramatic fans to sound like a campanologists' convention.
This is amateur dramatics in the raw, the behind the scenes drama of what goes on before the show goes on so to speak - a tale of infidelity, sex, intrigue, geriatric nymphomaniacs, TV sets with poorly adjusted aerials . . . and plenty of laughs.
Nick, played by Andrew Dunn, is the director of our outpost of amateur dramatics and has invited the leading lights of the society to a barbecue at his house to announce, in grand fashion, the next production. The simple fact that the barbie refuses to light should be a clue that this is going to be a memorable event - but probably not for the best of reasons.
Confident, fully in control Nick has it all in hand until he discovers from the treasurer Pearl, played confidently by Marilyn Baxter, that the society is deep in the red and only surviving because Pearl's brother-in-law is the bank manager and not charging interest.
That leaves Nick with a bit of a dilemma, and when a few skeletons come clattering out of cupboards he ends up promising starring roles in different shows to a whole raft of society members who are slowly working their way through his bar as he tries to tap-dance his way through the minefield he is creating for himself
For a start he has tried the old casting couch technique – or in his case the half painted garden bench method – in an attempt to have his wicked way in return for one starring role.
Then there are the roles promised as a result of not just one attempt at blackmail but two entirely different threats to his comfortable way of life, and then there is always the promise to his wife about a leading role for her sister and, trumping them all, there is the rich backer who will pump a shedload of cash into the bankrupt society's funds for a price – a role in a yet another different show.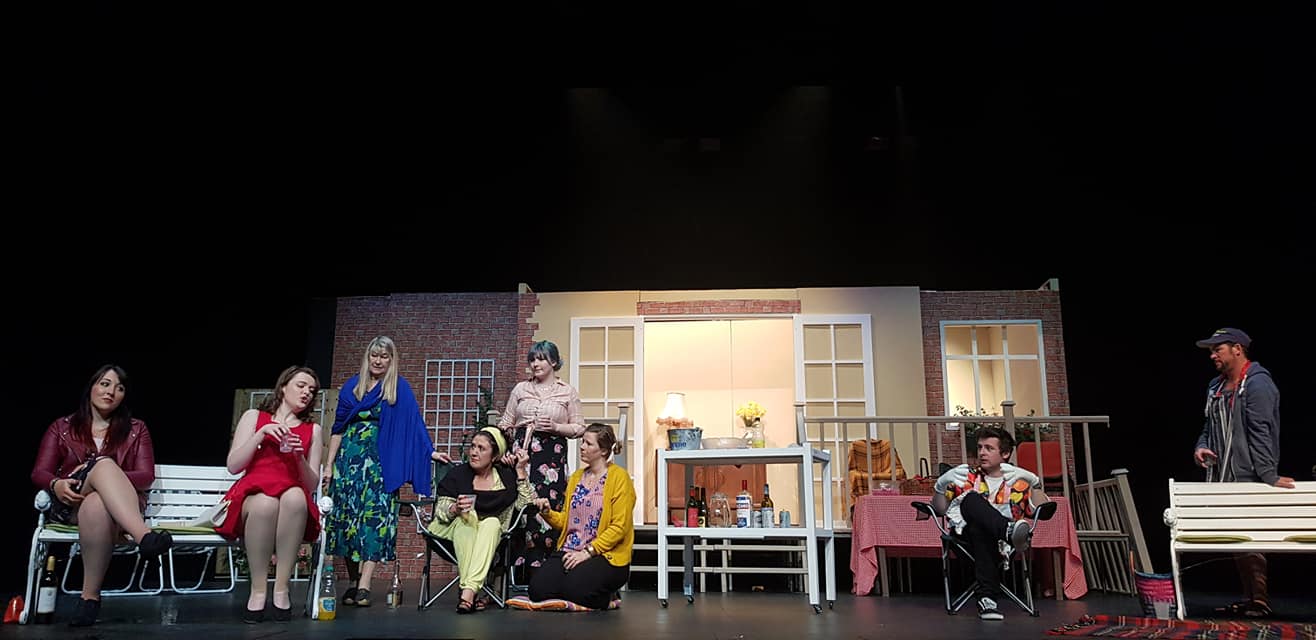 Add in a suicide attempt, a marriage meltdown and a random loony on the roof attempting to realign the TV aerial amid the chaos below and, with four widely different musicals promised, along with associated starring roles, to four different people the chances of a happy ending are diminishing by the minute.
Matthew Orrilard is superb as Teddy, gay, camp and bitchy when riled. He can be everyone's friend, a real pussy cat, but a tiger when riled, or so he tells us with a flounce and a flourish.
His ally is Joyce, played brilliantly by Sara Worton. Her past glories from days gone by are legendary as is her drinking these days and she is trying to live down being the Calamity in Calamity Jane, in the last production.
Joyce's cause for a leading role, in turn, is being championed by both Teddy and her sister who is Nick's wife Roz, played with calm among the chaos by Robyn Murphy.
Also pitching in for her choice of show and a part that would be several years too late for her, is Mona, played with a sly, conspiratorial, confidence by Hayley Northy who has what she believes is a trump card up her sleeve.
Moping in the corner is Derek, filthy rich and as exciting as cold gravy, played with a desperate intensity by Kenneth McConaghy who gives a masterclass in comic timing, and captures the turmoil in Derek's tedious life as his divorce to wife Deirdre, played with struggling, resigned patience by Amanda Avery, comes closer. Here is a man whose life has ended as far as he is concerned – and the problem is that no one will really notice.
Lurking in the background is the young, pretty, ambitious Jessica, played bitchily by Rebecca Gray; meanwhile clattering about rearranging TVs and aerials we have Eddie, who might have come with Deirdre but was there entirely by accident – which is probably how he arrived on the earth in the first place - played with nerdy realism by Peter Brennan. Not a real fan of TV are you Peter?!
The result chaos with some very funny moments, some nice one liners and some lovely touches from Matthew Orrilard as the oh so gay Teddy who has come out so far he is halfway to the next county.
There are some priceless moments such as when Teddy, hands tightly bandaged – don't ask - needs help to go to the toilet from Deidre, who is seen by all as a medical professional after taking a first aid course at night school – not the best time for the distraught Derek to re-enter.
And then we have Derek's attempt at stand-up . . . real alternative comedy or perhaps more an alternative to comedy.
Director Ria Hall has kept up a great pace and has managed to bring out the mood swings between anticipation and devastation as hopes and dreams first grow and are then dashed.
A mention too for the excellent set which gave us a typical, middle class, suburban patio as a backdrop to the real drama hidden behind amateur dramatics. The result is a really enjoyable production with plenty of laughs and a most unexpected twist at the end. Ah, if only their friends could have seen them . . .
Go and see this play if you get chance, there are plenty of belly laugh moments, and you will leave with a smile on your face.
Reviewer: Rick Eadles
Reviewed: 5th February 2019
North West End Rating: ★★★★