New guy, Princeton, is looking for somewhere to live after receiving a B.A. in English and wants to find his purpose in life. Princeton finds himself renting an apartment on Avenue Q where he meets an array of characters. I say characters as Avenue Q is no ordinary musical. As well as 'human' characters, there are several puppet characters.
The audience are introduced to the majority of Avenue Q through the song 'It Sucks to be Me' where they are all comparing how tough their lives are.
Lawrence Smith plays both Princeton and Rod and the transition between the two characters is perfection. To be able to create one character is tough enough but to then switch puppets, sometimes during a scene where another puppeteer appears to take over, is a joy to witness. Smith puts so much into both of his characters, telling both of their stories with humour and emotion. He is so energetic in both roles and as with other actors in this show, it's brilliant to watch him voice both characters when they are on stage at the same time.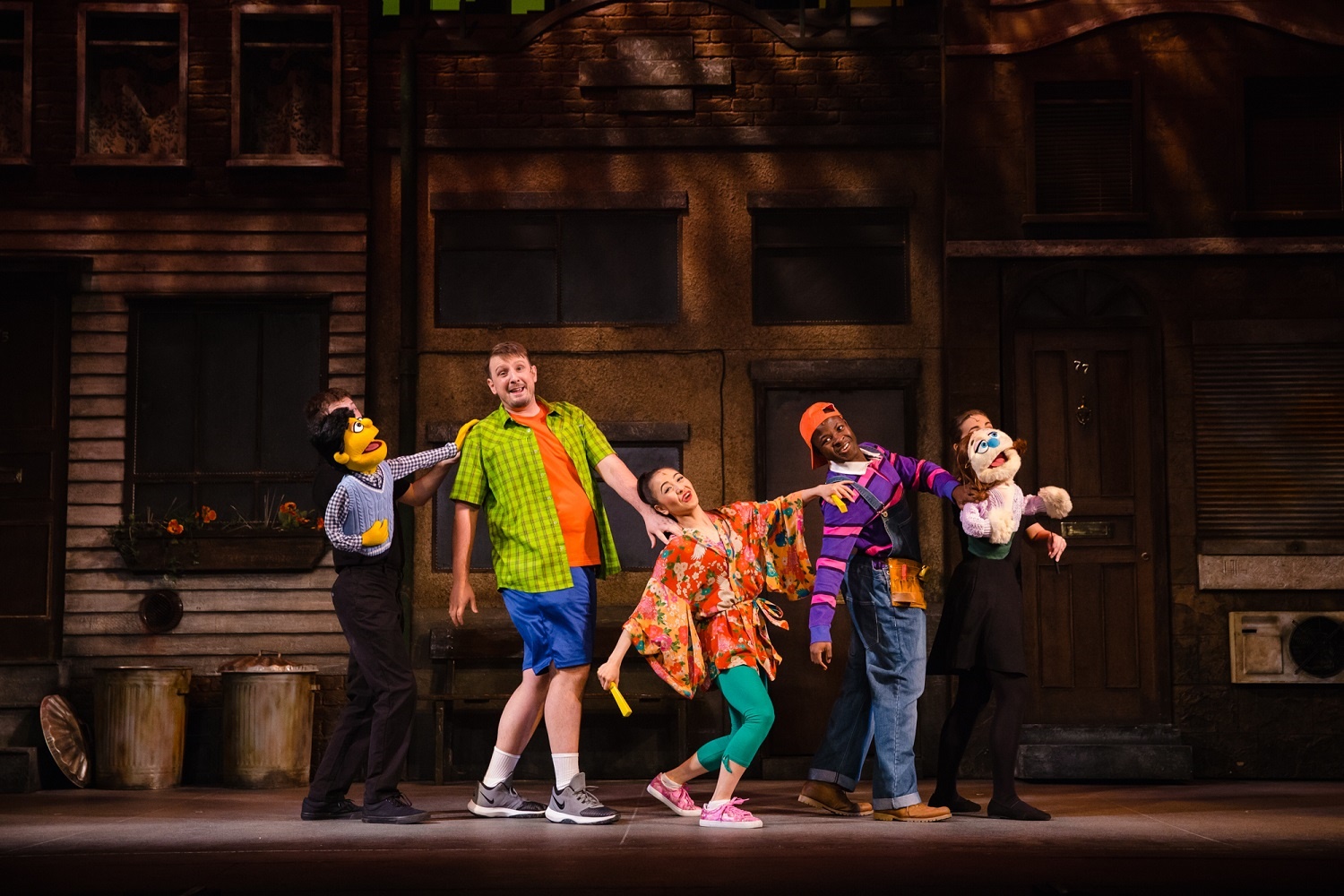 Cecily Redman plays Kate Monster, a kindergarten teacher who wants to find a boyfriend. Redman also plays Lucy the Slut and the two characters are worlds apart. As with Smith, there are times when Kate and Lucy are on stage together, and Redman takes it in her stride and voices both characters perfectly. Redman as Kate Monster is my favourite coupling of the show as Redman has Kate mirror her perfectly, even to a nod of the head or slight turn. Fantastic.
Tom Steedon delivers Nicky, Bad idea bear and the hilarious, 'perverted' Trekkie Monster. Trekkie sits in his apartment and believes the internet is only good for one thing, Porn.
Megan Armstrong as Mrs T, Bad idea Bear and second arm works so hard throughout, working closely with Steedon to operate Nicky and Trekkie's second arm, they move as a unit and are so in sync with each other. Armstrong also takes over other puppets when dual characters are on stage, so the voice of the characters can operate the other puppet.
The 'human' characters on stage are the brilliant Brian (Oliver Stanley), Gary Coleman (Nicholas McLean) and my favourite character of the night, Christmas Eve (Saori Oda). Oda has fantastic comedy timing and has the audience laughing every time she enters the stage.
With direction and Choreography by Cressida Carré, I have great admiration for, a tough enough job to do both roles in a show, but to do so for both humans and puppetry is fantastic.
Puppets are cleverly designed by Paul Jomain and cast are coached by Nigel Plaskitt, with the wonderfully bright, clever set designed by Richard Evans. The set is a street with apartment fronts but when characters enter, parts of the set open to show a smaller model of the character's room. If there was one thing I would mention, it is the screens that are used a few times throughout the show are very high up on the stage making it difficult for audience members nearer to the stage to see. It didn't take away from the enjoyment of the show, but it is something audience members mentioned.
Musical director Dean McDermott has done a fantastic job on this show. The sound from this cast, individually and as a group, are one of the strongest sounding casts I've heard in a long time.
If you get a chance to visit Avenue Q, you will laugh until it hurts and come away feeling happy and joyful.
Reviewer Damian Riverol
Reviewed: 26th February 2019
North West End Rating: ★★★★★