Before the show even started tonight I was in awe of the stunning Lyceum Theatre in Crewe. Sitting awaiting Grease to start I was wondering to myself why I hadn't been here before?
So would the show match the stunning surroundings? It certainly gave them a run for their money!
We all know the story of Grease which centres around Danny (Jacob Taylor) and Sandy (Bethany Kerrigan) who meet up unexpectedly at school after a summer spent together at the beach falling in love. Curtain Call Productions are bravely returning to this show just 4 years after their previous version was staged, according to the posters it is "back by public demand". Not having seen the previous version I have nothing to compare it to, however if the last was half as good as this current version there is no wonder it was a hit.
An acapella opening behind a gauze cloth was an imaginative start to a show packed with ingenuity and clever touches. The whole opening sequence melted into the first scene of Danny and Sandy stood at opposite sides of the stage remembering the summer just passed before the energy went into overdrive as the sound of "Grease Is The Word" signalled the start of a wonderful night.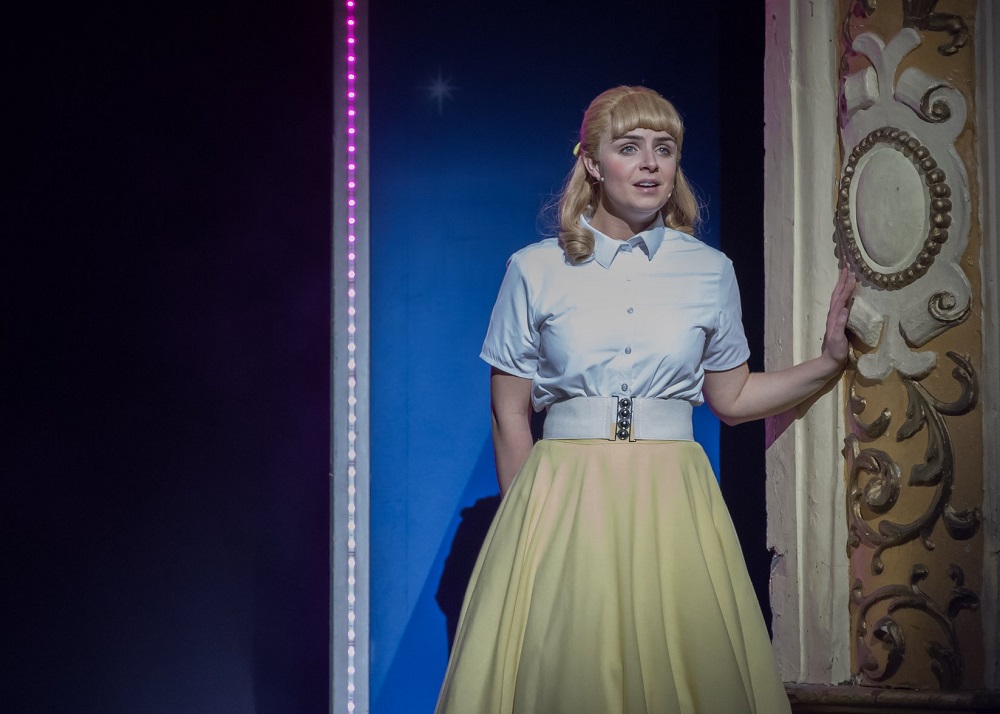 The one thing that struck me about the company on stage was how many men they has. Societies across the country would be highly jealous, I think I counted 17 in total, each used well throughout the show.
The casting for this production was very strong with Matthew Meachin (Kenickie), Harry Burke (Sonny), Sean Clark-Wilkinson (Doody), Dom Roberts (Eugene) and Matthew O'Donnell (Roger) being joined by Rhianne Stubbs (Frenchie), Helen Edmonstone (Patty), Heather Taylor (Marty), Lianne Oakes (Jan) and Shannon Webb (Rizzo) to name just a few playing their roles superbly.
Stand out moments for me were the big ensemble numbers. "Hand Jive" was particularly stunning and benefitted from tight choreography. Two female ensemble members, both wearing blue polka dot dresses shone in this number, I couldn't keep my eyes off their exemplary movement.
Vocal highlights included a stunning version of "There Are Worse Things I Could Do" from Webb, but the star of tonight's show was Kerrigan as Sandy, possibly one of the best I have seen in all the years I have watched this show on stage. Her version of "Hopelessly Devoted To You" was show stopping!
There were a couple of things in the show that niggled me. The dry ice in "Magic Changes" just didn't work last night and engulfed the audience making it difficult to see the stage at one point. In saying this it worked better in "Beauty School Drop Out". Some of the set changes were a little slow and clunky, possibly due to the sheer size of the impressive set and its transportation across the stage. Finally at Marty's pyjama party the cast were drinking out of a wine bottle with a screw top which did not suggest the year 1959 to me.
Niggles aside, this was a truly professional production with an impressive set, costumes, clever lighting design and killer choreography. I fully understand why Curtain Call decided to bring the show back after such a short time. If you are in or around Crewe for the rest of this week grab a ticket while they are still available. You won't regret it. https://crewelyceum.co.uk/Online/tickets-grease-crewe-2019
Reviewer: Paul Downham
Reviewed: 12th March 2019
North West End Rating: ★★★★