On The Mark Youth Theatre are a Chester based theatre company for young performers aged 10 to 19, run by Simon Phillips in partnership with Janice Craine and Luke Disley. They work towards a full-scale musical at the end of every two terms. This terms musical is the finger clicking The Addams Family.
On The Mark Youth Theatre, for the majority, had two casts, the Ghosties and the Ghoulies. I had the pleasure of seeing the Ghoulies at this performance.
As I entered the performance space, I was instantly transformed into the dark and creepy world of the Addams Family. With gravestones, eerie lighting and a smoky atmosphere the scene was set, so what were we about to experience. What I experienced was a hugely talented group of performers who gave their everything to deliver this story.
The sound as a group from this cast was outstanding, leaving me with Goosebumps on numerous occasions. Director and Musical Director Simon Phillips knows exactly how to get the best out of each of these cast members. Sometimes it can be hit and miss when using backing tracks, but they absolutely got it right with this show.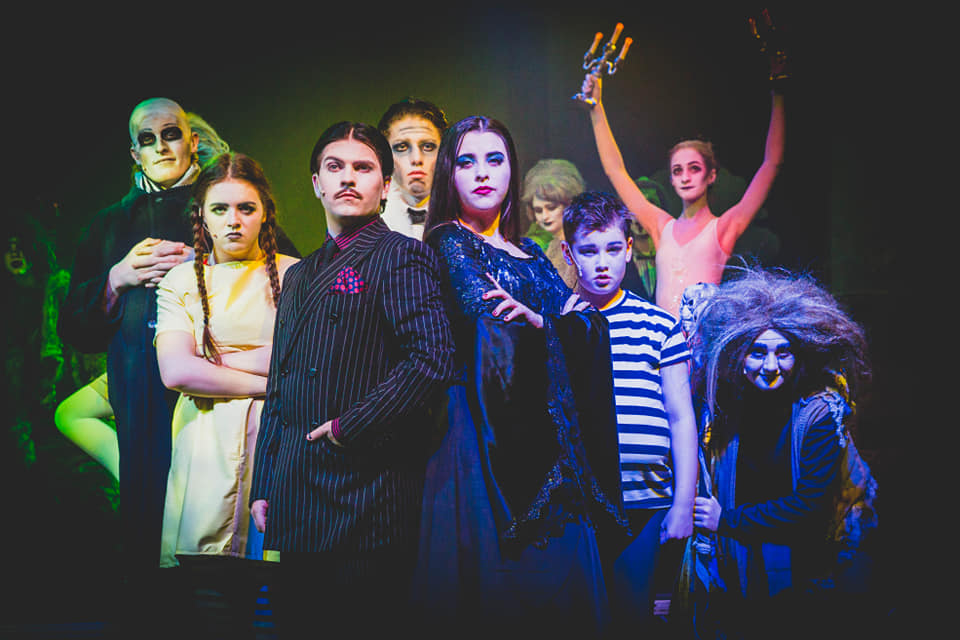 The cast are led by Gomez (Calum Craine) and Morticia (Maisie Spauls) through a story of love, lies, acceptance and forgiveness. Craine gave a strong performance as Gomez, trying his best to stay loyal to his wife and his daughter. Spauls was perfect as Morticia, keeping the character the whole way through and with the typical Morticia stance very strong.
As we go along, we are introduced to the other members of the Addams household. Eleanor Moulson was brilliant as Grandma and Sam Jones as Pugsley gave a wonderful performance, especially in his song "What If."
Charlie Doyle was hilarious as Lurch, grunting his way through the show and surprising us with a wonderful voice towards the end of the show.
Alex Haggart brought Fester to life, full of love and humour and gave an extremely strong performance.
A couple of characters stood out for me at this performance. First being Alayna Hughes as Wednesday. Her characterisation was perfection throughout the whole performance and her version of "Pulled" was an absolute joy to witness. The second was Alice Watkinson as Alice Beineke, starting out so sweet and innocent and changing her character throughout, becoming feisty and fun and wow, what a voice, especially in "Waiting" Watkinson absolutely blew me away.
Jack Marsh as Lucas and Daniel Brown as Mal gave strong performances.
A huge well done to all the Ghoulies cast members who played many characters and filled out the scenes when the stage could be otherwise empty.
Choreography provided by Laura Roberts was inventive and full on and was delivered to a high standard. Costumes by Claire Thompson and Hair and Make-up by Beatrice Sutton rounded off the look of the show perfectly.
The Addams family had a very limited set and relied heavily on projection and lighting. Lighting was spot on, very snappy but occasionally the projection was lost a little due to the strong follow spot. Sound provided by Daniel McAllister was fantastic with brilliant sound levels and every line heard no matter how small the line.
The stage crew under the management of Sam James worked together well to move the small amount of set pieces on and off quickly and most of the time unseen.
A huge well done to all involved on and off stage at On The Mark Youth Theatres Addams Family and I look forward to seeing what comes next.
Reviewer: Damian Riverol
Reviewed: 17th March 2019
North West End Rating: ★★★★