Problem with magical realism; when the lights suddenly go out and props develop a mind of their own, how do you know it's not part of the play? The genre may also account for the twisted twist in the tale, which is not only bewildering but a repetition of something which should never have happened in the first place. No spoilers, though – go on, read the book.
Twins Nora and Dora are indeed wise, and know who their father is, but he has no wish to know them. They are 75 before receiving his tacit acknowledgement: an invitation to his 100th birthday party. First, we are merrily led a dance via the past, featuring three sets of 'twins', and yes, part of the plot revolves around mistaken identity and unrequited love. But we also have what James presciently called '(messing) about with gender roles'; Omari Douglas as Showgirl Nora with Melissa James as Dora live up to the title quite spectacularly.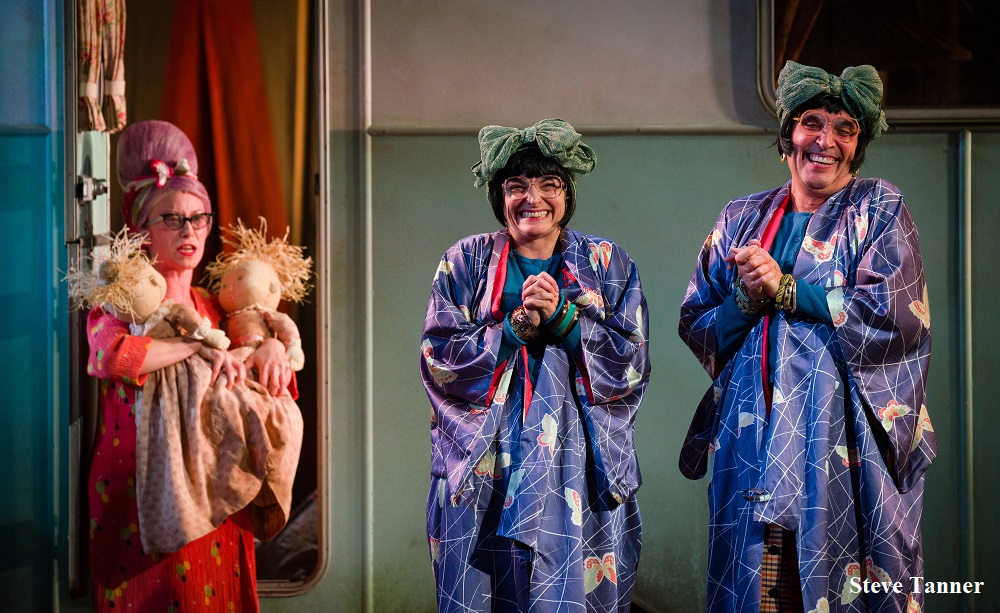 Then there's Gareth Snooks' Dora, the one with common sense, it eventually dawns on you, whilst Nora (Etta Murfitt) could be called, commonly, sensual. And I may have got things a bit mixed up... trying to work out the delightfully named, and played, Prinking Minx (Ankur Bahl, who also excels as the arrogant Young Melchior); thinking here of whoever seduced Estella Hazard, mother of Melchior and Peregrine. But I can tell you that Bettrys Jones makes a lovely lovelorn heroine, a delightful young Dora, and Saskia, half of the truly terrible twins (Lady Atalanta's girls), matched by Katy Owen's evil Imogen.
Ms Owen is the one here happily galloping off with every scene as Grandma Chance who brings up the twins in her own unique way, very nearly to the point that the lights are almost a little dimmer when she is not on stage. Similarly, Paul Hunter, as subtle as Grandma is way over the top, if that's the right way to describe a stand-up comedian or mc as he ambles on to deliver piercing one liners. This works marginally better than his role as Melchior, just as Sam Archer appears more charismatic as Young Peregrine than Mike Shepherd, as the seedier older version. One of the many lovely touches is that having stuck Perry in Rupert Bear type bright yellow and black check trousers, they are more faded on old Perry. Plenty of other marks of genius, often used to comic effect, include frantically waving bright flags to represent flames. And to round up the cast, Mirabelle Gremaud is charming as Young Nora and Pretty Kitty, while Etta Murfitt and Patricya Kujawska are both delightful; the most touching scenes they share are when the latter is Nora's Blue-Eyed Boy. The latter is also the fair-minded Lady Atlanta, Melchior's wife, and Wheelchair, whom the twins look after.
The music enhances the whole production, including popular numbers such as, poignantly, 'Girls Just Want To Have Fun'. As for the staging, as fanciful as the plot, using an actual caravan which turns out to be a mini interior stage itself, largely as the girls' home; well, not that large of course. Turned around, it's a screen for video, and the rest of the stage is theatre, seaside; basically, you name it. Interestingly, the programme gives credit to the set to Miraculous Engineering which certainly sums it up.
What a coup for Storyhouse, staging Emma Rice's new company; if Angela Carter is turning over in her grave, it's because of drumming her heels at missing this. And definitely one not to be missed: full of passion for theatre and joie de vivre, balanced with the deadly serious, it's a bewitchingly fabulous production.
Reviewer: Carole Baldock
Reviewed: 19th March 2019
North West End Rating: ★★★★