After the raging success of last year's musical 'Legally Blonde', The Zodiac have set the bar high as they present their 2019 production of Monty Python's 'Spamalot'. What a huge gear change for this company, as they take on a musical which is both demanding and challenging in completely different ways.
However this sophisticated amateur musical theatre company proved that they can turn their hand to anything, succeeding where some societies have never dared to go with their very own version of 'Spamalot.'
This is a musical based on the 1975 movie; Monty Python and the Holy Grail which was first performed on Broadway in 2005. Searching to find the Holy Grail, King Arthur (Mike Kelsall) seeks to find knights to sit at his very very very round table, before being sent on a mission to find 'The Holy Grail'. King Arthur, along with his trusty servant Patsy (Kapil Roy), finds knights in the form of Sir Robin (Tayler Spruce), Sir Galahad (Sebastian Farrell), Sir Lancelot (Tom Buckler) and Sir Bedevere (Matt Weaver). This miscellaneous bunch of men make a questionable team on an important quest but their presence on stage as both individuals and a pack was undeniably comical.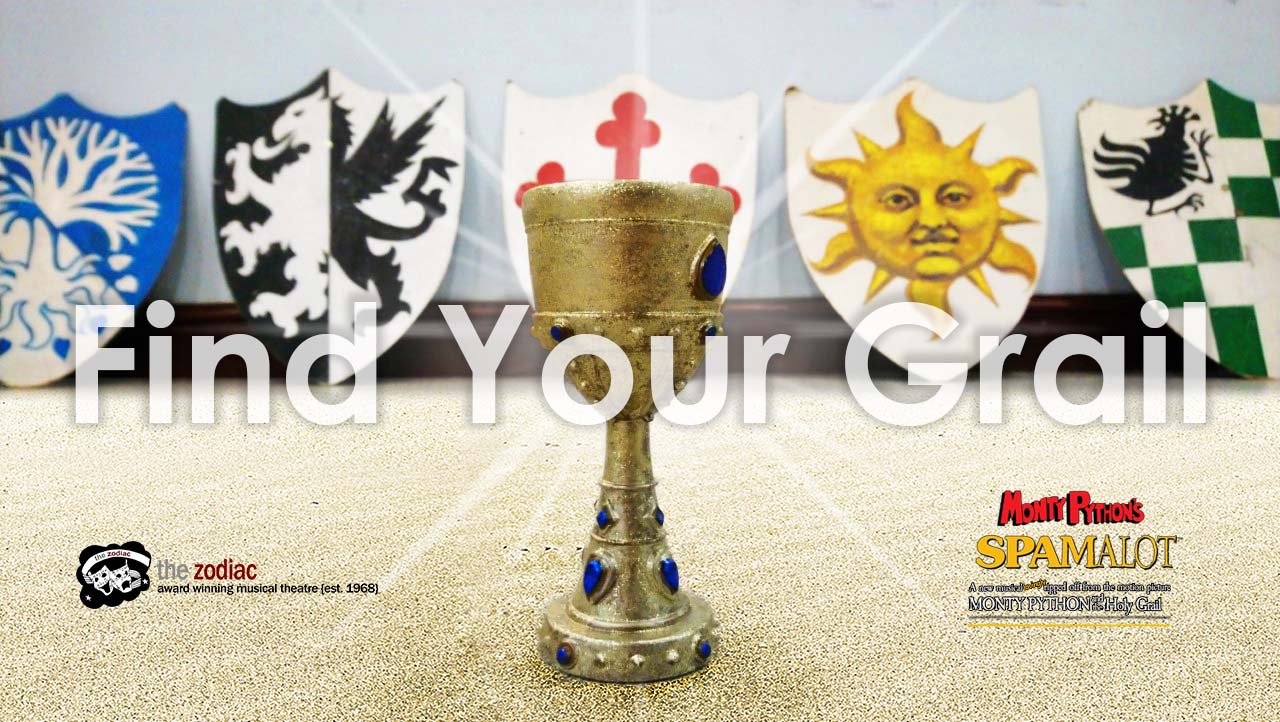 What was remarkable about this production was the number of strong, talented male leads which would make any amateur musical theatre company jealous (my own to name but one). And to top it all off, the men continued to shine and entertain as they crossed dressed as women (Denis's Mother: Ron Murphy, some of The Laker Girls Cheer team) and played excellent supporting roles (Prince Herbert: Aaron Cawley, Guard: Roy Youds, Knight of Ni: Phil Murray). This quantity and calibre of male talent was a delight to see (where are you finding them?!) and a big congratulations to the Zodiac for their unwavering standard in both recruiting and casting talented performers. My favourite performance of the evening came from a newcomer, Kapil Roy, who deserves credit for his fantastic characterisation and amusing facial expressions that had the audience in stitches with even the smallest of moves and the slightest of looks.
However, with that said, the men would be nothing without their leading lady, Gabrielle Stanfield, whose vocals were outstanding and the vibrant female chorus who lit up the stage at every opportunity. Valarie Ball also made a big impact with her humorous role of Welsh enchanter 'Tim'. The second half proved to be a winner with my favourite scenes starting at 'Brave Sir Robin' thanks to the hilarious minstrels (Rachel Roberts, Jo Oultram) and continuing right through to 'I'm all alone' which was comedy gold. These performances and everything in between were lively, fun, and completely daft- entertainment at its best!
There is no doubt that 'Spamalot' is quite different to the norm when it comes to musical theatre. The script is a random collection of songs, jokes and scenes that don't create the most coherent of stories but this seems to be the whole point. The script has been updated to include modern and local references and it breaks the 'fourth wall' in a very obvious and elaborate way. Nothing about this show is subtle; the deliberate slapstick comedy goes on and on to the point where this light-hearted musical creates a 'pantomime-like' feel. This production is filled with intricate gags that took lots of thought, good timing and clever direction to achieve. It's true to say that this show may not be everyone's cup of tea and I'm not even sure it's mine but compliments to The Zodiac for their brave choice, it has paid off. And although it may be more of an 'acquired taste' among the musical theatre fans, what is undeniable is the Zodiac's ability to pull off everything and anything they set their mind too. I am excited to see what direction they will go in next!
The company look like they are having a lot of fun on stage and this radiates into the audience. The choreography is excellent (Jennifer Deakin), the set and costumes are faultless (Barbara Worrall, Lindsey Watkinson) and there is even an impressive programme to top it all off (Tayler Spruce). The direction from Neil Silcock seems to cry 'the sillier the better' which completely works for this production and I would only encourage the whole cast to take this on board and go even bigger and further with every move, every large grin and every elaborate facial expression as they continue their run of this daft, enjoyable show.
'Monty Python's Spamalot', a musical which lovingly rips off the motion picture 'Monty Python and the Holy Grail' continues at the ever beautiful 'Brindley Theatre, Runcorn' until the 30th of March 2019. My advice would be to get in a silly mood, be ready for a laugh and go with an open mind like I did, you will no doubt have an evening of amusement and fun!
Reviewer: Bláthíne Maguire
Reviewed: 26th March 2019
North West End Rating: ★★★★