The God of Carnage or Le Dieu du Carnage (in its original French), is a comedy set in France and written by Yasmina Reza. The play has been a success worldwide and was translated into English and first performed in the UK in March 2008 at the Gielgud Theatre, London starring Ralph Fiennes, Tamsin Greig, Janet McTeer and Ken Stott and won the Olivier Award for Best New Play. Roman Polanski also made the film version in 2011 called Carnage.
Two sets of parents decide to meet to discuss their 11-year-old children Bruno and Ferdinand, who have recently had a disagreement which resulted in Ferdinand hitting Bruno with a stick knocking out two teeth and giving him painful nerve damage. Bruno's parents Veronique (Christina Knowles) and Michel (Richard Probyn) feel that Ferdinand should apologise to Bruno and Ferdinand's parents Annette (Sue Munro) and Alain (Peter Munro), wonder what provoked Ferdinand to strike Bruno.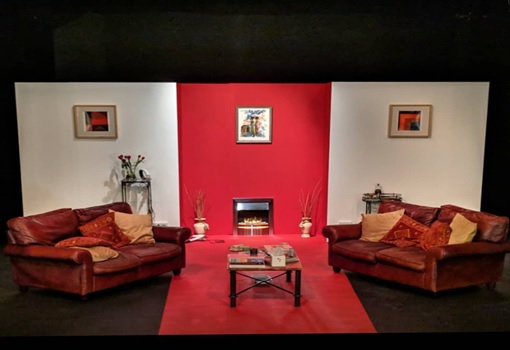 The whole play is set in the house of Veronique and Michel who have tried to make their guests feel welcome, but this cannot disguise their apprehension and concern for their son's injuries. Both couples have a middle-class outlook which is highlighted with Alain's obsession with his latest case (he is a lawyer) and his constant interruptions to the conversation with his mobile phone calls, which causes resentment from the other guests.
The script is a gift to the actors as it is so well written and translated, that it allows them to relax into their roles without them ever seeming to struggle with dialogue or push too hard for the laughs. Even though the storyline is very simple, the tension between the couples is conveyed to the audience who appreciate the lightness of touch approach to the comedy.
It is always a good sign when the cast seem to be able to morph into their characters with ease and the roles were well cast.
The living room set had some nice touches and MADS usual attention to detail was there again - the living flame fire was a nice touch and made the set feel homely.
There was a wonderfully intimate feeling in the Theatre and the audience certainly warmed to this play which was deftly delivered. The hoots of laughter that came from the audience and the comments about their enjoyment of the play certainly echoed my own experience and I can only urge all Maxonians and beyond to visit before the play closes - you are in for a treat!
The play runs from 29th April to 4th May 2019 and you can book tickets https://www.madstheatre.org/ or call 01625 611974.
Reviewer: Caroline Worswick
Reviewed: 29th April 2019
North West End Rating: ★★★★