Written by Martin McDonagh, this pure Irish play was first performed at the Royal National Theatre in 1996. It was then taken Off Broadway in 1998 at the Joseph Papp Public Theatre and in the same year it was performed in Los Angeles. After a return to Off-Broadway in 2008 it re-appeared in the West End in 2013 for a sold out run starring Daniel Radcliffe in the title role of Cripple Billy, transferring to Broadway in 2014 where it received six Tony Award nominations.
Set on a small Island off the West coast of Ireland in 1934, this dark comedy delves into the lives of the small community of Inishmaan and a crippled boy's dream to leave the Island for a better life.
'Cripple Billy' (James Goodall) is a teenage boy who leads a sad simple life and suffers from the small community environment of everybody knowing everyone else's business with Johnnypateenmike (Richard Shute) being the epitome of the local gossip. He did not have a good start in life and his disabilities hold him back from being able to do anything meaningful.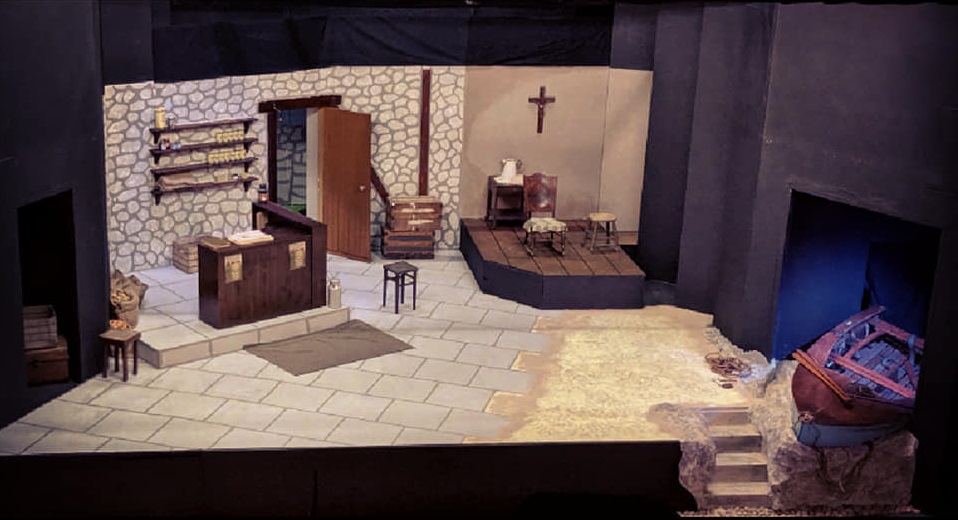 He spends his days reading books and staring at cows! He is an orphan and is cared for by his aunties who run the local shop. He longs to be treated as a normal teenager, but the Islanders taunt him with his lack of mobility. When the opportunity arises for him to audition for a Hollywood movie, he seizes his chance and bluffs his way across to the other Island where the auditions are to be held.
As usual, MADS' set is impressive. The ability to move between scenes seamlessly keeps the plays fluidity. The script is a gift for any Company, the humour very quickly seeps into the audience and we find ourselves laughing at the Irish wit. It is easy to see why this play has won awards, even though the story itself is quite dark, its characters are well formed and its, sometimes close to the bone wit, transforms this bleak tale into an easy to watch entertaining comedy. My only gripe with this play is not with MADS but I feel the second half of the play is not as strong as the first, and it loses its momentum a little towards the end.
Once again MADS have raised the standard with some outstanding acting. It is difficult to remark on anyone in particular as the whole cast were excellent and obviously enjoyed working on this play. The directing skills of Kayleigh Smith must also be applauded as the professionalism of the performance and the overall production by the creative team including lighting and costumes make us forget that we are watching an amateur production.
This is the last of this seasons' productions and runs from 17th June 2019 until 22nd June 2019. To book https://www.madstheatre.org/mads-tickets.html
Reviewer: Caroline Worswick
Reviewed: 17th June 2019
North West End Rating: ★★★★