Vincent Simone was in his element, the ladies certainly outnumbered men in the audience and to him it was obvious they had come purely to see him perform......surely no one was here to see fellow Strictly Come Dancing star Ian Waite? Or their beautiful and elegant dance partners Ksenia Zsikhotska and Crystal Main and not forgetting the talented vocalist James Lomas?
Opening the show is Lomas, who was one of the original Billy Elliot's in the west end show for which he won the Theatre Goers 'Most Outstanding Newcomer in 2005 and The Laurence Olivier Award for 'Best Actor in a Musical' in 2006 aged just 15. Putting on his top hat and tap dancing onto the stage we hear the first of many songs he performs tonight and this extremely likeable guy proves he is worthy of a show of his own, singing and dancing to a variety of songs during the evening with a tingling version of 'This is Me'. He is joined on stage by Simone and Waite and their respective partners who move smoothly around the stage to 'Let's Face The Music and Dance' giving us a taste of the impressive show to follow.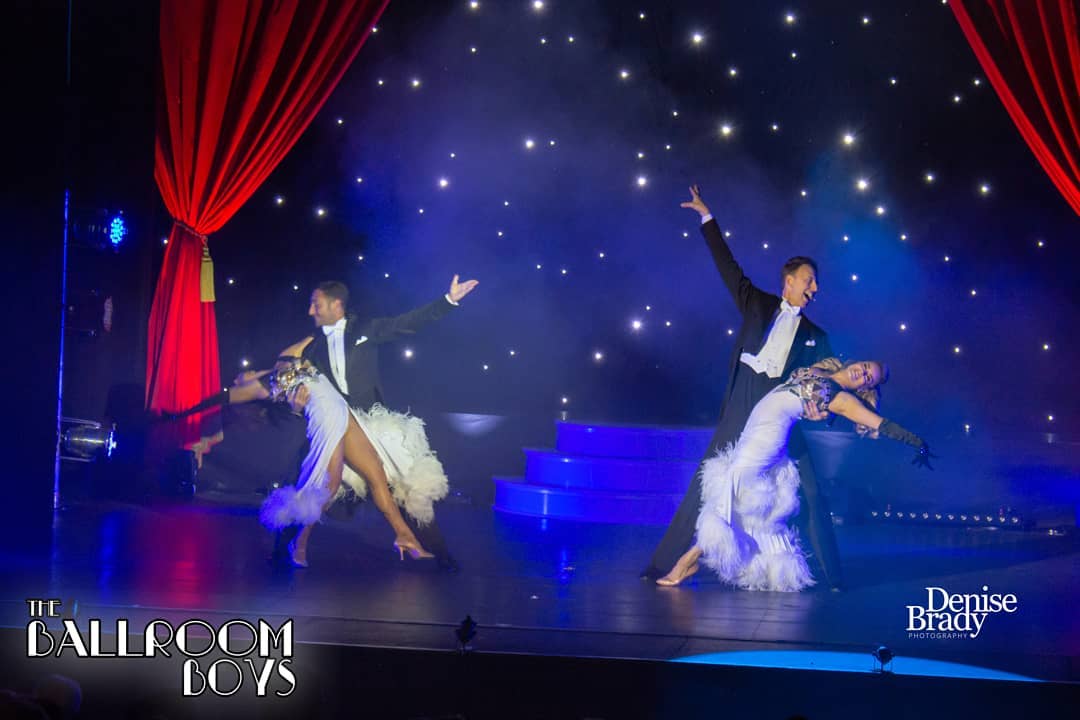 There is great rapport between this most unlikely couple to stage a show together and I did have doubts as to how it would work between them, but, sorry ladies man Simone, your chemistry with Waite really works! The show has lots of comedy moments with several references to fellow Strictly stars in particular poor 'old' Anton De Beke who is the butt of many tongue in cheek jokes. There is plenty of adult innuendo and cheesiness but neither are afraid to laugh at themselves. Simone packing a fine figure of a man and Waite....well all I can say he stole the show during a ballet routine between them! The audience are also involved in the show and two ladies and two men volunteer to join them and dress up as music icons and perform a dance routine of their own, tonight the 'victims' are incredibly good sports with a worthy winner from one of the males. The show takes on a variety feel alternating between songs from Lomas, dance routines and the comedic banter between Simone and Waite....if they ever give up the day job (which they never should) a new career awaits!
The costumes are numerous and dazzling and the ladies are stunning and competently perform as they join their partners and we are treated to all the favourite dances including the Quickstep, Rumba, Foxtrot and a fabulous flamenco routine from the ladies followed with a dramatic Pasa Doble with the men. There are many more dances but it appears the audience are wanting one in particular, Simone's Argentine Tango. Zsikhotska and Simone make this look easy as they perform this intricate routine and is worthy of the standing ovation it receives.
Special mention goes to Dave Kay and Luke Drinkwater for sound and lighting which is excellent throughout and enhances the show with multiple effects including smoke machines and pyrotechnics.
Overall this is a well put together old time variety show with a modern twist, highlighting why Simone and Waite are both world class dancers. The current tour is coming to a close but I was reliably informed that another show is in the pipeline for a return with a whole new show next year. If you've missed this one be sure to look out for the return with The Ballroom Boys 2!
Reviewer: Lorna Weekes
Reviewed: 28th June 2019
North West End Rating: ★★★★