Unfortunately, I never had the opportunity to see Elvis live, however with so many tribute artists across the world I have been fortunate enough (depending on your feelings for tributes) to attend a great number of these shows. I know tributes are not everyone's cup of tea, but I do enjoy them and even now, 42 years after Elvis's death his popularity is immense and these tributes play a role in keeping that memory alive.
In 2012 Ben Portsmouth was the first non-American to win in Memphis, the Elvis Presley Enterprises competition title of 'Worldwide Ultimate Tribute Artist' resulting in a career that has continued to reach out to audiences across the world. Tonight, Portsmouth, clad in gold lamé and playing guitar bursts onto the stage and we are off to a rousing start with 'Shake Rattle 'N' Roll' and the audience are immediately joining in. After another song he leaves to return in G.I. uniform and sings the ever popular 'Wooden Heart'. Obviously, Portsmouth enjoys banter with the audience and birthday girl Sandra is invited onto the stage and serenaded with 'I Can't Help Falling In Love' and later in the show Bernadette is picked to join him and 'play his maracas!' Whilst I enjoy an artist having fun and engagement with the audience there was just a little too much during the show and many classic songs I feel are spoilt by constant interruptions and lyrics changed to something amusing.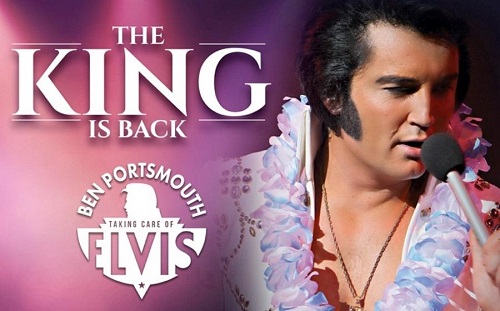 It wouldn't be an Elvis show without the predictable handing out of silk scarves which Portsmouth does on two occasions and as he performs 'Teddy Bear' he casts small teddy toys out into the audience. I am not a kill joy by any means, and I know Elvis himself had a sense of humour but I felt there are too many ad libs during songs. When Portsmouth does take himself seriously, he has a fabulous voice and these moments are the ones I can see why he has gained titles and is regarded as one of the best Elvis tributes around. Appearing on stage wearing black leather Portsmouth sings a medley of songs including 'Heartbreak Hotel, Hound Dog and All Shook Up' which definitely shook up and set pulses racing with the mainly female audience!
At the rear of the stage is a screen which throughout the first half have projections of early Elvis hits, the Jordanaires and Elvis signing up to the army etc, however the lacklustre stage lighting and smoky set impairs the visual set up and the band members and backing vocalists are mostly overlooked and I felt little connection to them. Sound is also a little loud and there are several times that the vocalists cannot be heard clearly above the music and this includes a rendition of the gospel song ' Oh Happy Days' by the female vocalists which is a great shame.
The second half of the show begins with the infamous music 'Also sprach Zarathustra' and the tension builds for Portsmouth's entrance on stage as Elvis in his Vegas days and he does not disappoint as he appears resplendent in white jumpsuit. Straight into 'CC Rider' and followed with 'Burning Love' Portsmouth has the magic to keep the audience captivated but again in other songs there is too much of joking and song stopping which is totally unnecessary. After each song, upon the last beat, the stage is cast into darkness which I feel makes the production appear disjointed between the songs and the flow is lost. However, the show continues with some brilliant performances of some of the greatest songs recorded by Elvis including 'American Trilogy' and a Tom Jones hit ' (It Looks Like) I'll Never Fall in Love Again. I have mixed feelings about the 'The King Is Back' show.....at times it was excellent but then it was marred by amateurish moments and lack of production, but with an army of adoring fans I'm sure will continue to delight for many years to come. There is and will only ever be one Elvis and the title 'Ben Portsmouth is Elvis' is pretentious and should read 'as Elvis'!
Reviewer: Lorna Weekes
Reviewed: 6th September 2019
North West End Rating: ★★★