Saturday Night Fever burst into Chester this evening, taking over the main stage at the Storyhouse. With huge disco balls, brilliant lighting, live music and an audience ready to party, we were ready to see how this well known 1970s film would unfold on stage.
Saturday Night Fever follows Tony Manero (Richard Winsor) who by day works in a paint mixing store but by night is king of the dance floor at the local disco, 2001 Odyssey. The story focuses on competition, firstly dance competition but also the competition for the affection of a girl.
This show is full of huge hits from the Bee Gees, sung by 'The Bee Gees' – Barry Gibb (Jake Byrom), Maurice Gibb (James Kenneth Haughan) and Robin Gibb (Danny Knott) – whose vocals were phenomenal and added a wonderful background to the story that is unfolding on the floor below them.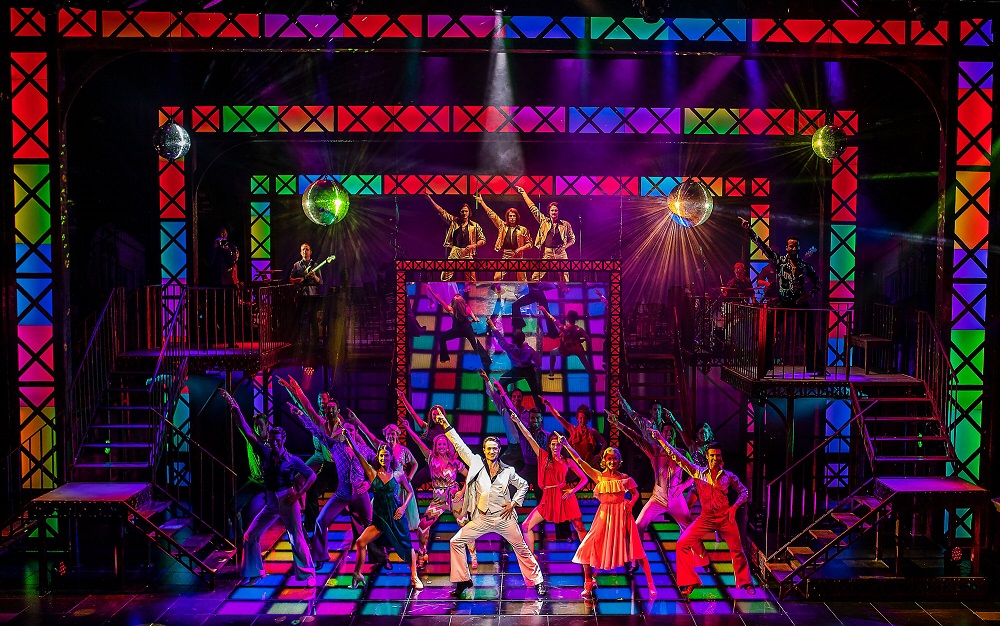 Dance is the centre of the show therefore strong choreography with strong dancers are key to the show and luckily both boxes were ticked tonight. Choreography by Bill Deamer was full on, lots of energy and clean lines. A few standout pieces for me was Immortality where Winsor played on his dance background to deliver a strong, emotional piece, with bits of ballet, tap and contemporary. The other piece I really enjoyed was Salsation, danced by Fosco (Benjamin Harrold) and Maria (Sophie Sass).
Having the Bee Gees singing throughout the show was fantastic and gave the rest of the cast more chance to give everything to the dancing although it felt a little disjointed as a musical when there was a scene going on but the actors weren't singing the song, it was happening behind them. Not in all cases, Natasha Faith as Annette delivered a stunning version of If I Can't Have You and Olivia Fines as Stephanie Mangano gave a passionate What Kind of Fool. This situation did not in any way take away from the enjoyment of the show, it was just an interesting way of telling story, bringing two worlds together to make a whole, I guess.
The set designed by Gary McCann worked very well, with different levels used and backdrops flown in and out and scenery moved on and off by the cast, keeping the scenes flowing. Lighting was huge and so important, so Nick Richings did a perfect job in my opinion in designing a fantastic lighting plot.
Costumes and wigs were perfect for the era and were fantastic quality, especially the famous white suit. I have never seen a costume change get so much attention while happening on stage and when the jacket went on, the look was complete, and the audience went wild.
They say every song tells a story and in Saturday Night Fever, never has a truer word been said. You are taken on such a journey and these songs carry you along from beginning to end tying the whole thing together.
If you get a chance to see this while it is at Storyhouse, do it, I guarantee you'll tap your feet, clap your hands and you may even, like the majority of the audience tonight, be up on your feet at the end dancing and singing along.
Reviewer: Damian Riverol
Reviewed: 10th September 2019
North West End Rating: ★★★★★