It is a treat to be back in the Brindley Theatre Runcorn, reviewing the talented Encore Productions as they showcase their latest production "Summer Holliday". Encore have definitely taken a twist with this musical which is based on the Cliff Richard movie of the same namesake but this company have proved, once again, that they can pull off anything they turn their hand to.
Having never seen the movie and not being overly familiar with Cliff Richard music, I have to say the storyline left a lot to be desired as it follows four young mechanics who take a red double-decker London bus across Europe. They meet three singers who need a ride to Athens to fulfil their dreams of being big popstars. On this random journey, this unlikely bunch find a young American boy hiding out on their bus who transpires to be a young singer that has run away from her overbearing mother.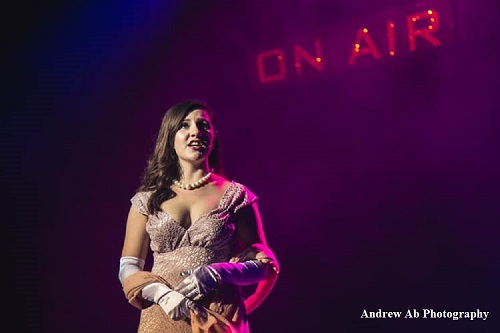 The story is bizarre but I think the idea is not to read too much into it because what you see is what you get! Just enjoy the music and come along for a good sing-song and a laugh – there are plenty of those!
Encore got off to a shaky start as the opening number was difficult to hear and understand. However it wasn't long until some of the much loved classics got the whole audience waving and singing. 'We're all going on a…Summer Holiday' was sung beautifully by the lead Blair Smith who completely led this production. The choreography was cute, funky and in keeping with both the casts varying abilities and the era of this feel-good musical (Natasha Bill). However the stand out feature of this production was the harmonies with credit to Andy Davies (musical director) and to all the cast members for not only learning and perfecting intricate harmonies but executing them with control and style. 'Living Doll' which was sung a cappella, was a highlight for me and similarly, 'Do-Re-Mi' delivered some powerful numbers that came together superbly.
A beautiful set supported this large cast to create entertainment and fun and Nick Cupit (director and producer) added some nice touches by utilising TV screens to support the journey of this production. Some brave costume choices added even more colour and variety to this enjoyable show. The live orchestra sounded brilliant and the score lends itself to everyone top tapping and arm waving at every possible opportunity.
Ultimately, I am not convinced that this musical has stood the test of time as I find it a little cringe for a modern audience however there is no doubt that 'Summer Holiday' is easy watching and Encore performed with a passion that made the everyone want to get up and join in the fun! As the curtain came down, it was clear that the cast did not want this show to end which rubbed off on the audience as we all exited the theatre humming and smiling! Summer Holiday continues this weekend, for more information and tickets please visit https://thebrindley.org.uk/
Reviewer: Bláthíne Maguire
Reviewed: 25th September 2019
North West End UK Rating: ★★★