The Queen of Soul needs no introduction and her legacy lives on as this captivating, respectful tribute unfolds on stage. Aretha Louisa Franklin (1942-2018) was raised on gospel and the daughter of a minister and tonight's show is set in the format of a church along with the Reverend (A.J Lewis), a gospel choir and a four piece band. The church and song played important parts in Franklins life and this is a suitable setting for the Rev's introductions of the artistes and songs, along with snippets of information of Franklins life, awards and spiritual beliefs which are delivered sermon style and one can almost imagine being in church amongst the calls of Hallelujah and Amen from the choir and several audience members. The choir are amazing, dressed for the most in rich red robes and harmonise beautifully with several members given the opportunity to perform individually.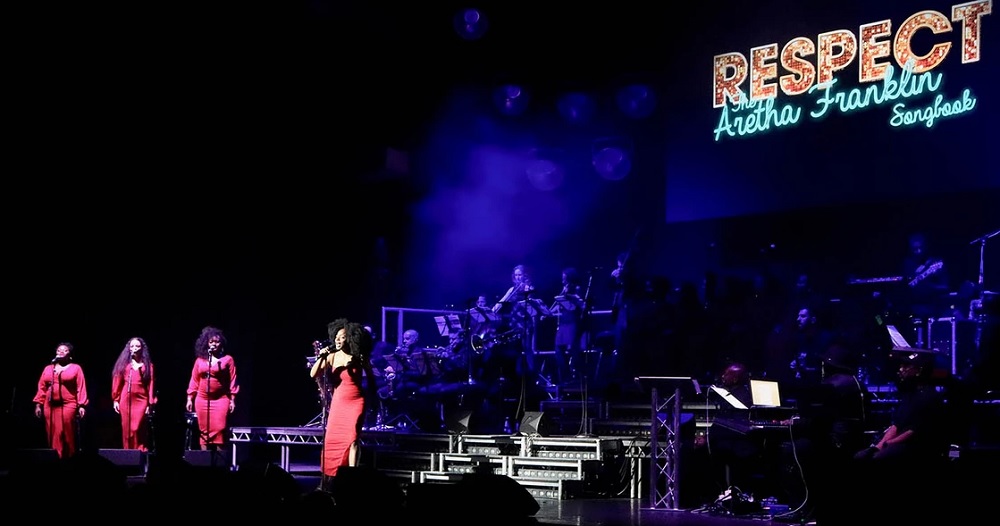 The show progresses with four main leading lady vocalists, Tanya Edwards, Charlotte Berry, Cleo Stewart and Stacy Francis who independently have had considerable success in their musical careers and give impressive performances with their renditions of the many hit records of Franklin. Berry forms part of the choir and is also an understudy which I presume was the reason for her main performances this evening with the absence of Cleopatra Higgins although no mention was made. Although billed on flyers, from the website I gather Higgins will no longer be appearing on this current tour.
Our leading ladies are dressed immaculately in revealing glitzy gowns which is in stark contrast to the overall church setting and gospel robes and I am undecided if this actually works in this arrangement, although it does highlight the stars of the show. It became more appropriate when the choir dressed in black sequinned dresses too.
There are so many songs to cover and without exception excellent individual performances are given but when singing collectively it did feel a little competitive as to who could sing the loudest and occasionally such was the power of their voices they drowned each other out along with the band and backing vocalists, although interestingly the audience loved this.
All the soul classics are there from 'Son Of a Preacher Man', 'Think', 'I Say A Little Prayer' and the one getting everyone up on their feet and singing along to 'Who's Zoomin Who?'. There is a great performance from Berry and Lewis with the classic hit Franklin had dueting with the late George Michael ' I Knew You Were Waiting'.
I would have liked to have had the opportunity to get to 'know' the personalities of the leads with a little more audience interaction as they just sang their songs and left the stage. There are images projected on a screen at the rear of the stage throughout, but in all honesty I paid little attention to them as there was so much going on with the cast.
The band members, under the musical direction of Ian Ockley on keyboards were obviously enjoying it all and put together a fantastic sound. Rounding off the evening and with everyone wanting more there can only be one song to end with 'RESPECT' and this is exactly what this show seemed to gain from the audience. https://www.respectaretha.com/
Reviewer: Lorna Weekes
Reviewed: 25th September 2019
North West End UK Rating: ★★★★