'Ghost the Musical' was released 21 years after the initial film in 1990 with Swayze, Moore and co. This time it was the turn of Knutsford Musical Theatre Company (KMTC) who were performing their version of this iconic story, originally written by Bruce Joel Rubin. KMTC intended to perform their production of Ghost the Musical with 'an 80s twist'.
Directed and produced by Ben Ireson, this version of Ghost the Musical was an extremely professional and impressive performance by KMTC. The story focuses on Sam Wheat who is a New York banker and his girlfriend Molly Jensen who is an artist. Sam gets attacked one evening and dies and the story then focuses on the fact that Sam is trapped between the real world that he left Molly in, and the next world.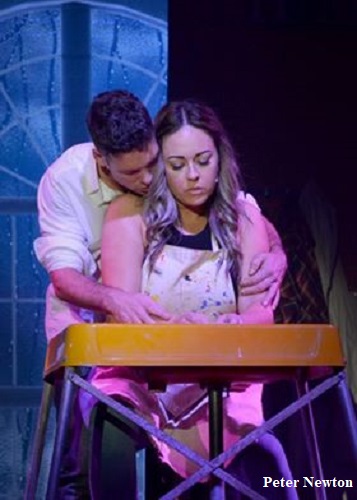 The two leads for the production (Andrew Dunn and Nickie Simms) were simply outstanding. Very difficult to comprehend that they were indeed not regularly treading the boards and that this was in fact amateur theatre. Consistency was key in the portrayal of 'Sam Wheat', played by Andrew Dunn and the intensity of his adoration and also eventual despair for Molly's safety following his death never faltered. With much experience in other societies, Dunns part will be hard to forget and the part he played as deceased Sam, seamlessly interacted with all other main characters and made it hard to take your eyes off him.
Simms performance as 'Molly Jensen' demonstrated stage presence in abundance and her version of 'With You' was spectacular. Full of emotion she provided spine tingling shivers and multiple goosebumps for the audience. Her vocals were both powerful and delicate in equal measures. She also performed effortlessly with Dunn providing the audience with a sense that they were observers of Molly's life for real.
Heather Baker's portrayal of 'Oda Mae Brown' the psychic was appropriately over the top. Her part was in some ways a little overwhelming to watch but appropriately so as it was in keeping with her character. Loud, garish and comedic she commanded the stage with defiance.
Other stand out performances was that of Gabriel Walker's powerful portrayal of Carl Bruner. His stage presence was consistent and his acting ability quite remarkable.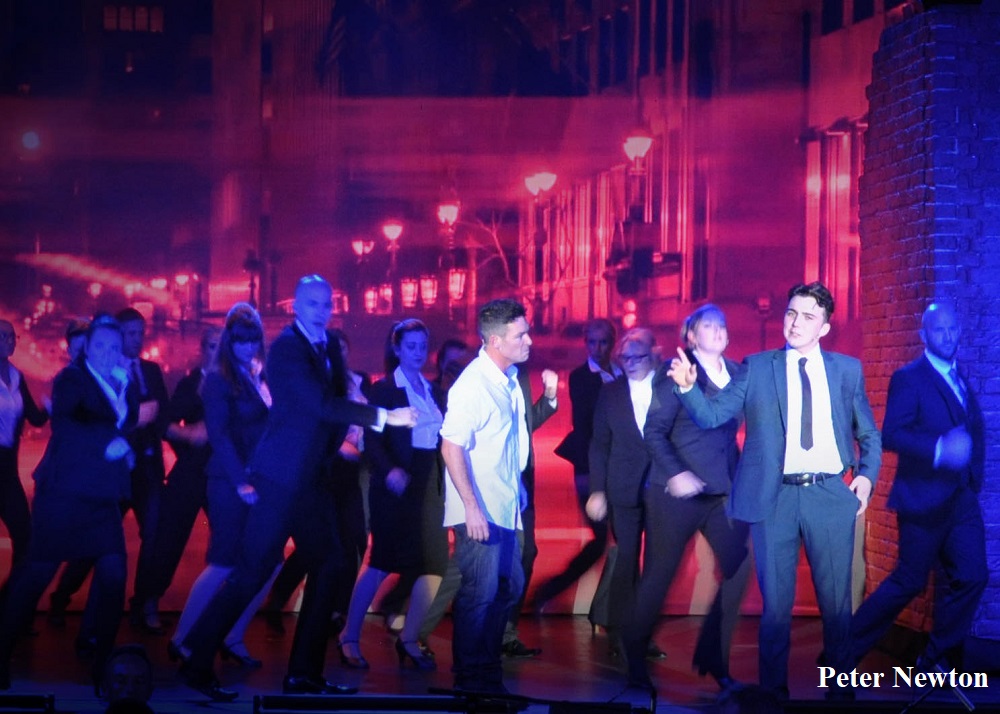 Musical Director Michael J Scott must be applauded for leading the orchestra and enabling them to perform pieces with exquisite timing to each scene. The choreography with '80's style' dancing by the office workers in their suits was powerful against the New York backdrop onstage. The film clips to the set were all magnificent and possibly the best part of the entire set for me as it added to the whole visual and in some way managed to successfully frame the entire stage. The props were impressive including computers, a hospital trolley and even a SMEG fridge. This production had it all.
It would be remiss not to mention the special effects as they added to the overall professional set up on stage and as a visual drew the audience in even more.
With numerous productions to their name, KMTC are surely a wonderful jewel in Cheshire's crown. It was hard to believe from the off that this was an amateur theatre company on stage. This company are the consummate professionals and seem to not do anything by half. I would love to see this company again.
Reviewer: Angela Kelly
Reviewed: 23rd October 2019
North West End UK Rating: ★★★★