Castaway Theatre are celebrating their 20th year this year and like their first show all those years back, they return to Storyhouse with that same show, Bugsy Malone.
Bugsy Malone is a spoof of traditional gangster movies. Originally a 1976 film where all the characters were played by children, the book was rewritten for a stage version in 1983.
Tonight, we were transported back to the 1920s with flapper dresses, a speakeasy, splurge guns and cream pies. The conflict between two rival gangs take over the town and something must be done to rectify the situation.
Oliver Davies as Bugsy was incredible. The look, the accent, the ownership was top notch. He was totally believable in the role and his dancing was brilliant when he had the chance to dance. Bugsy's love interest, Blousey Brown, was played by Lauren Heywood and she had just the right amount of naivety yet determination as the character to get what she wants. Heywood has a stunning voice and really shone during Ordinary Fool.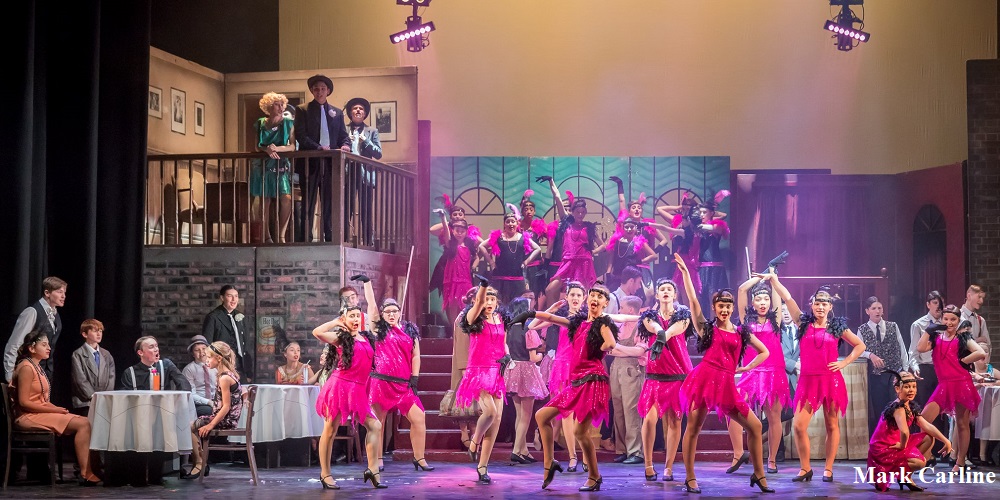 Tallulah (Nadzieja Nowakowska) is Fat Sam's girlfriend but is a bit of a troublemaker and likes to be the centre of everything but doesn't always get her own way when it comes to Fat Sam (Sameer Dhanjee). At Fat Sam's there is a piano player/cleaner, Fizzy, who wants the chance to audition for a slot on the main stage but is always pushed to one side, to come back tomorrow and wow did Alfie Connolly shine in this role. His version of Tomorrow was just stunning, the standout song of the evening for me. Huge well done.
Two great characters were Smolksky (Thom Hallows) and O'Dreary (Owen Ellis) who worked so well together and how they managed to keep a straight face I'll never know. Ellis was pure comedy on stage, over the top and full of energy while Hallows was the commanding detective, trying to keep his team under control. Great laughs.
This cast had around 60 performers – it is split in to two casts for different performances so all in all around 120 performers – but every person on that stage tonight played their part so well, even during big scenes, I was looking around watching everyone in the background and they were all doing their thing, telling their story. A massive well done needs to be said to director Karen Partington, to work with such a huge cast but to make every person on that stage a character and bring out the best in each of them must be commended.
Choreography by Sarah Walker was very in keeping with the era and delivered well. The harmonies in the group numbers were stunning, huge well done to musical director Wendy Dickinson.
The set was simple but effective. There were a few technical issues throughout the show, a table left here or a cloth not flying in correctly, but it did not take from my enjoyment.
Lighting by Nathan Storm was good, picking out the mood nicely, there were just a few times lighting was a little early or slightly late but as it was the opening night this could be forgiven. Sound by Daniel McAllister for the most part was great, again there were a few missed lines when mics weren't on and a couple of times the band were a little loud, drowning out some dialogue but again this didn't spoil my enjoyment.
Costumes were perfect for the era along with the hairstyles. You can see a lot of hard work has gone into this production. Both on a stage and off.
Keep up the great work and I look forward to seeing what comes next for Castaway Theatre.
Reviewer Damian Riverol
Reviewed: 24th October 2019
North West End UK Rating: ★★★★