With it being a chilly 1 degrees Celsius as I made my way to the Players Theatre in Cheadle it seemed quite apt that I was to see a play called 'The Lion in Winter'. Based on the 1968 movie, the play tells the story of King Henry II and his wife; Eleanor as they try to decide which of their sons to become heir to the throne.
Set at Christmas time in 1183, this could be the original dysfunctional family. If you think your family are bad, they are nothing compared to these. Henry favours their youngest son; John, while Eleanor prefers their eldest; Richard. Meanwhile middle child Geoffrey is plotting in the background to play them all against each other.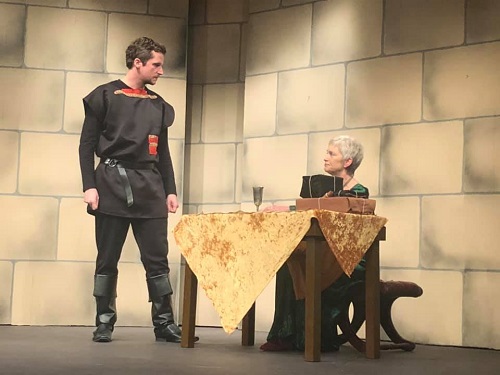 Eleanor is currently serving time in prison for treason but has been granted a temporary release. She takes the opportunity to stir the pot whenever she can.
The cast is completed by Alice, who was promised to Richard but is now Henry's mistress and King Philip of France.
Without a shadow of a doubt the character of Henry and Eleanor are the glue that holds this production together. There seems to be a natural chemistry between the pair. Henry has the strong presence needed for a King, and the sarcasm is delivered perfectly by Eleanor. Her line 'It's 1183 and we are still barbarians' got the biggest laugh of the night. The actress did a good job in portraying her as a cold hearted and twisted old woman.
The rest of the cast did have their moments to shine. Some of them took it, some didn't commit enough to the role for my liking.
Despite being historic in nature and quite dramatic, The Lion in Winter is quite humorous in places.
There is quite a shocking moment in the play when it becomes clear that Richard has been having a fling with Philip - a testament that the writing was very cutting-edge for its time.
Players Theatre is a local limited budget theatre, therefore the set is not as fancy nor are the scene transitions as slick as the bigger theatres. However, they make do with what they have. The lighting was adequate for the production, however it was never used in any creative way to add to the atmosphere. I felt there were plenty of opportunities to explore the lighting options in the show - sadly this never came to fruition.
Reviewer: Brian Madden
Reviewed: 18th November 2019
North West End UK Rating: ★★★