Second star to the right and straight on 'til morning. Storyhouse originals are back this Christmas with a classic tale of the boy who never grew up. This is the third Christmas at Storyhouse and they have brought a wonderful, magical show to Chester, a well-known story that has been brought up to date with parents working unsociable hours, children having to fend for themselves and some fantastic costumes with a modern twist.
Peter Pan has always been my favourite story and character, after all we should never forget the child within and this new version, written by Gary Owen not only honours the original version, but also brings it up to date, engaging audiences of all ages.
From the very beginning you knew it was going to be magical, with characters crossing the stage and their 'shadows' following behind them, being mischievous and creating havoc.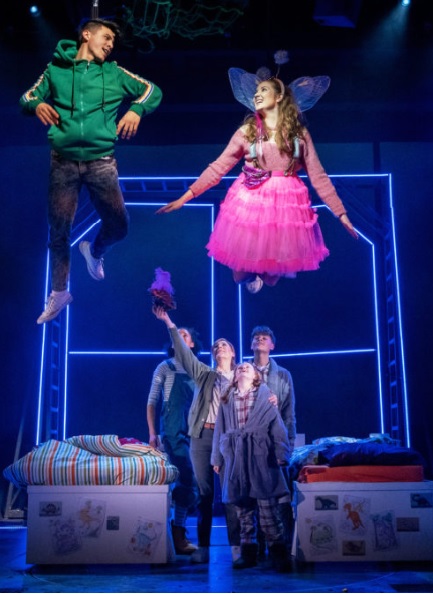 Peter Pan and side kick Tinker Bell enter the stage from above on swings then flying in and the way the flight team work together with the cast is phenomenal. You can see the wires and you can see the operators, but it is still magical. This combination makes it more impressive as you see things you wouldn't normally see, backstage and on stage at the same time, working together. A huge well done and thank you to Wired Aerial Theatre.
Peter Pan is brought to life by James Phoon and he brings such a likeability yet slight vulnerability to the character. He is the 'greatest boy in the world' and connects with the audiences from the moment he enters the stage. Carlie Enoch as Tinker Bell is hilarious. Just the right mix of attitude and cheek, you can't help but feel in love with the character and believe that she is magical.
Neal Craig plays the Dad and Noodler and has such great comic timing, especially as Noodler, one of Captain Hook's right 'hand' men. Hook and Mum is played by Imogen Slaughter and it's a refreshing change to see Hook as a female, very commanding but also adds humour to the role.
One of my favourite characters is played by Charlotte Gosling as Nana the dog. This is dog like no other, with the ability to be heard by the audience but not by the cast, you hear her frustration when it seems no one is listening to her. Gosling also plays Tiger Lily.
Georgia Jackson makes her professional debut as Wendy and excels in the role and John is played by Storyhouse trainee actor George Bellamy. Every year Storyhouse audition actors in training to be part of the professional company and as well as George Bellamy is Catrin Jones as Tootles who is incredible in the role, very funny and animated throughout. The adult cast was completed by Matthew Coulton as Slightly and Smee and both roles were played very well.
There are three groups as children playing the Neverland lost children and Mikey Darling, they will take it in turns to cover the roles over the 64 shows and the group tonight were full of energy and gave their all on stage.
The Storyhouse thrust staging was the perfect choice to host Peter Pan as you feel like you are involved in the story as the audience surround the stage.
The staging was incredible, mostly set by the cast members but a couple of standout moments for me was when they brought on a Velociraptor and when they created a pirate ship out of the staging. Designer April Dalton has designed a wonderful piece. Lighting by Tim Mitchell could not be faulted and added to the magic we were witnessing.
The musicians were on stage throughout and were part of the show, a small group but extremely important, made up of Jennifer Pearson, Zoe West and Leo Elso.
If you want to escape and immerse yourself into a little bit of magic, then get along to Storyhouse this Christmas season and take flight with Peter Pan, you will not be disappointed. Running until the 12th January 2020 https://www.storyhouse.com/event/peter-pan
Reviewer: Damian Riverol
Reviewed: 11th December 2019
North West End UK Rating: ★★★★★