The Comedy Store in Manchester, located on Deansgate Locks, dedicates the first and third Sunday of the month to New Stuff. This is where established and well known comedians come and test put their new material to gauge reactions as to whether the material is good enough to include in their set. The evening is compered by Toby Hadoke, a comedian originally from Shropshire who spends most of his time around the Manchester Comedy circuit. He was brilliant at warming up the audience and even managed to make a really awkward situation with one the audience members hilarious. Toby Hadoke explained to the audience prior to the show that due to this being new stuff, there may be an element of the comedians looking through notes in order to prompt them. I was a bit worried about this because I think for comedy to work, it needs to be seamless and flow well.
First up was Harriet Dyer from Cornwall. She did come across as slightly nervous and did keep referring to notes but she made it seem funny and her awkwardness was actually quite captivating. I later learned that she has opened a comedy club for comedians with mental health issues because of her own experience with mental illness and it was nice to see that she is using her illness as a positive thing. Harriet Dyer is quirky and can change her accent from her native Cornish to almost anything which made her stand out for me. I'd like to see more of her.
Tom Short from Salford was next, he uses his social awkwardness as a driver for his performance and I quite liked that about him. He did come across as nervous but I enjoyed his short stint on stage with most of his content making me laugh.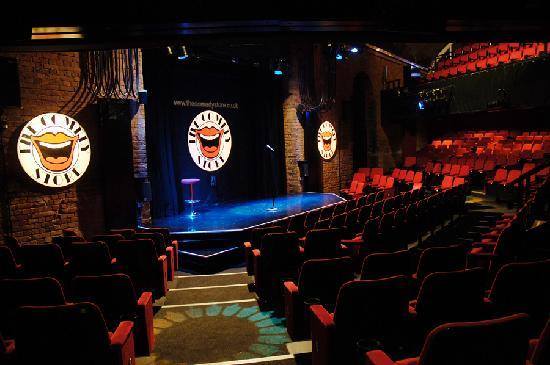 The third act of the night was Nick Clarke. He was the first one to come onto the stage and really own it. Although his material was also new, he delivered his work perfectly and confidently and was the first one of the evening who made me feel like I could start to relax a little. Another one that I will definitely be watching out for.
The last act of the first half was absolutely hilarious. I cannot say enough good things about Tom Taylor, whom I can only describe a comedy musician. He was amazing from start to finish and I literally had tears strolling down my face and aching cheeks all the way through. As soon his set ended, I went straight online to book tickets to see him. He is doing a show in June and another in September in Manchester and I urge any fan of comedy to go, he is certainly one that will not be forgotten in a hurry. Truly truly talented and I cannot wait to see him again.
The second half of the evening kicked off with Dolly Winters, a Scottish comedian who used things in her everyday life as her material. I particularly related to the funny minds of children and the audience did warm to her.
John Lemon was next. He is from Whitehaven and another one of my favourite performers of the evening. He delivered his material in a confident way and had me laughing throughout about his anecdotes of online dating and his daily struggle of being a 31 year old man who still lives at home with his parents.
The penultimate act of the night was Peter Brush. I'm sorry to say that I did not really like him at all. Although the whole night was dedicated to new stuff, he was really awkward and I was cringing in my seat. I think it was his focus on whether or not the audience liked his material or not was what put me off him. He talked about some negative reviews that he has had and it felt to me like he was apologising for not being very good, even before the audience were given the opportunity to judge for themselves. Sorry to be negative, but you can maybe talk about this next time?
Last up was Rob Rouse. He was also really funny and the audience loved him. It was not just his act, which would have been good on its own, it is his facial expressions that really made it for me.
A visit to the Comedy Store is almost always a brilliant night out but sadly, for me, I do not think I would visit again on the New Stuff night. The performances were a touch too 'bitty' for me. Having said that, there are some real glimpses of comedy genius, namely my new favourite comedian Tom Taylor. He was worth turning up for alone.
Reviewer: Annellen Fazackerley
Reviewed: 12th June 2016