As a life time sceptic that female comedians can be funny, I was apprehensive of reviewing tonight's show Animal as ninety minutes of stand up female humour which isn't really 'my thing'. On the whole I find stand up humour very subjective and as a hard person to make laugh, tonight I was pleasantly surprised at this young woman's stage presence and very funny material, as I laughed out loud at most of her material.
Sara Pascoe is a 35 year old Vegan who has no children living in Lewisham South East London with her boyfriend of 3 years and fellow comedian John Robins. Sara clearly has had a very successful career in comedy appearing on TV in shows such as Live at the Apollo, Mock the week, Have I got news for you, QI and many more. Animal tour is Sara's second stage tour and she visibly has a loyal fan base as the auditorium was bursting with excitable adults. Mild mannered and with a brain that boarders on manic genius Sara held the audience for 90 minutes with her exquisite style of comedy. Bouncing around topics and thoughts of politics, death, religion, sexuality, pornography and gender her slick style of real life story telling and personal thoughts were pure genius. Sara told some true, some wacky and some questionable stories, like when God took over the tannoy in Sainsbury's, but all were funny in equal measures. My favourite being the hilarious story of her boyfriend taking a life insurance policy out for her.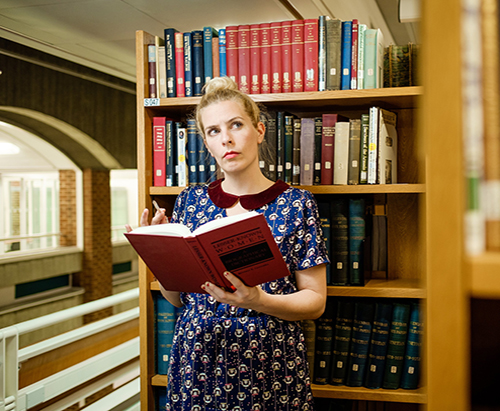 Watching comedians who rely of profanity and expletives make my blood boil, but Sara is far removed from such low intelligent humour. Her material was clean, clever, well delivered and very relatable, showing vulnerability and humanistic ideas.
Sara is tiny in stature but her stage presence filled the space of the Quay side theatre tonight as she stood relatively in one spot most of the time and delivered a monologue of hysterical material. Her thoughts are chaotic and deep yet intriguing to watch unfold as she skips through her life's material trying to make sense of the endless questions that filter through her mind.
Sara has recently written a book called Animal 'the autobiography of a female body' that was sold tonight at the venue and Sara signed a massive amount of books and met a long line of people following the show. Once again this young lady impressed me by her genuine 'niceness' and humble persona. I had never heard of Sara Pascoe before tonight but I can definitely say she is one I will look out for again in the future. I urge anyone who reads this review to see her live on stage if you get the opportunity as you will not regret it. Incredibly intelligent, human, witty and with a mind that would rival any genius or philosopher Sara Pascoe is definitely a master of her craft.
Reviewer: Victoria Wilmot
Reviewed: 25th June 2016
North West End Rating: ★★★★