On the third Sunday of every month, the Comedy Store opens the stage to new comedians - a great platform for fresh new talent. This particular show didn't produce any hidden gems, however there was a lot of potential.
Compere for the evening was Alex Boardman, who did an excellent job of overseeing proceedings. His intuitive comedy and audience interaction is great to watch, I was glad not to be one of his victims. Thankfully there weren't any hecklers in this half capacity crowd, but if there were I'm sure Boardman would know how to handle them.
First up was Deage Paxton who struggled to engage the audience during his time of stage. His piece lacked structure, which showed as at times he looked completely lost. I feel he would have benefitted from a bit more preparation. Having said that his response to an audience member's phone going off was so over the top, it was hilarious. He also brought along some charts on some 'research' he carried out. His chart about the amount of fake tan a woman wears correlates to how much she is likely to enjoy the male anatomy had the audience in stitches.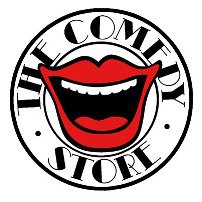 Second up was Neil Harris who lived up to his geeky appearance by delivering an intentional unemotive set. While I feel his delivery has legs, his material was not as good as some of the stuff I have previously seen at the Comedy Store.
The final act of the first half was Patrick Draper accompanied by a guitar and a selection of large printed banners. His material mainly revolved around how we perceive people based on where they come from. While this was funny, I feel like these types of jokes have been done thousands of times before and are unoriginal. However, Draper really stood out when he sung famous songs to the tune of children's nursery rhymes. This had the audience roaring with laughter, and I feel he is missing a trick by not making more of it.
After the break first up was Jonathan Collins, who is an open transvestite - which the majority of his set revolved around. It felt like Collins was speaking at a hundred miles an hour, so almost everything he said just went over my head. Perhaps he was nervous, but he definitely needs to slow down and relax if he wants to get the audience on side.
The final act of the evening was Tony Bassnet, who was in my opinion the best of the night. His material was so relatable that the audience loved it. His experiences of going to Ikea and texting his grandmother's stalker were great.
All in all this is a good way to see up and coming talent on the comedy scene. Student entry is £1, so it's an absolute bargain. However, you need to know that what you will see isn't always the quality of their main comedy nights, but equally you could witness the birth of the nation's next huge comedy star!
Reviewer: Francis McKevitt
Reviewed: 21st August 2016