Romesh Ranganathan's rise to popular stand-up comedian has not been an overnight success but it has accelerated in the last 2 years. His popularity was clearly evident tonight in the packed theatre and in his extensive tour, with many dates sold out.
Romesh walked casually on to stage with a confident strut but no hint of an arrogance. This tour is entitled "Irrational" and stems from him questioning his happiness and the realisation that, in his words, "I'm a bit of a pr+~k!"
What followed was a meandering of thoughts and gripes about life, family and his own inadequacies. He shares his reasons for using Starbucks and why he dislikes shared seating in restaurants.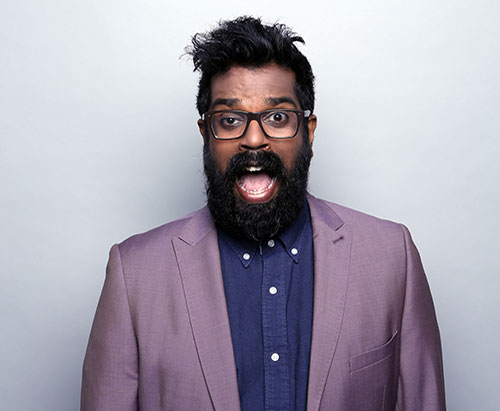 He talked about the love he has for his wife, issues he has with his second son and how he's considered trying homosexuality!
Romesh's humour is sharp and quick-witted but with the right balance of between attack and self-deprecation. Some of the language is above coarse, way about the 14+ recommendation on the ticket in my opinion, but the strongest word originated from an audience member's heckle!At times he shared the frustrations of getting a break in television and how, in attempt to de-coconut himself, how his mother became an overnight celebrity. All will be explained. I especially liked his advice to Isis how they could do better at bringing down the Western world!
Tonight was really enjoyable and at times I really laughed out loud. Romesh warmed to the audience and this was reciprocated. This rapport extended into the encore which took the form of a question and answer session and some anecdotes about his former career at a Maths Teacher in Crawley.
'Time flies when you're having fun', so the saying says, and it definitely flew by tonight. I left wanting more from Romesh, as did the rest of the audience, and I felt that he would have kept talking into the early hours but he needed to go. His tour continues until the end of the year.
Reviewer: Alan Harbottle
Reviewed: 19th September 2016
North West End Rating: ★★★★