Nominated for Best Comedy Show at the 2015 Edinburgh Fringe Festival, Nish Kumar is definitely a comic that is going places. His latest show 'Actions Speak Louder Than Words, Unless You Shout The Words Real Loud' is an intelligent, refreshing show.
Kumar "tactically" structures his show to make the audience think he is a nice guy before going into a set which is largely political based. His tales about going to David Bowie, Prince and James Brown gigs on his own make him relatable and show just how extravagant he can be.
Almost a full show dedicated to politics may sound a bit dull and off-putting but Kumar's determination and passion make for enjoyable viewing. And let's face it he won't be short of material - especially from this year.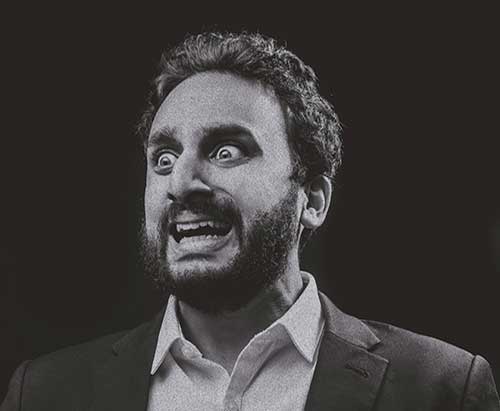 Quite frequently Kumar uses the term "rich white man", highlighting that as long as you're rich, white and male you can do no wrong. Giving the recent example of Naz Shah being suspended from the Labour Party because she supported the relocation of Israel to the US, while racially insensitive politicians like Boris Johnson keep their jobs. Kumar is very cautious not to use any racially aggravated slurs, in fact he is so cautious that he make a joke of it by saying things very slowly so he doesn't get misheard.
Kumar talks about growing up 1990's and how prejudiced it was. He excellently makes reference to the Spice Girls to back up his view, stating that the only black member of the group was referred to as scary.
The show also delves into Britain's colonial past and the country has seemingly 'forgotten' about it. Kumar is of Indian descent and reveals how his great-grandfather was shot five times by British troops.
This is a well put together show and Kumar makes all the political points he wants to get across without ever becoming patronising. Of course he discusses the major political topic of 2016 - Brexit. He states that just the day after the referendum he performed a gig and was heckled by a racist.
Kumar's commitment to his performance is refreshing. He delivers a powerful message that shows how intellectual he is. He is one person I would never want to get into an argument with because he is excellent at displaying why he is 'right'. You can clearly see that this is his passion with a bit of banter thrown in for good measure.
Reviewer: Francis McKevitt
Reviewed: 2nd October 2016
North West End Rating: ★★★
Photo: Idil Sukan