I'd like to tell you about the Australian comedian Adam Hill's Clown Heart Tour - except I didn't see it, and I am so glad I didn't.
The extended evening of the most unstructured comedy I've ever seen was so much better than anything anyone could have written - and Hills orchestrated it to perfection.
As the anchor man for Channel 4's live, one hour comedy sho, The Last Leg, Hills has proved how quick witted and able he is to adapt his performance to the ever changing situation which unfolds around him. However, The Lowry audience took that to another level in a performance I doubt anyone will forget - especially Hills and his BSL (British Sign Language) interpreter, Catherine King. With his head shaved and Union Flag dyed onto his scalp (a result of a lost bet from the Rio Paralympic series of The Last Leg), the hard work he put into writing this tour was tossed aside for pure improvisation which I wish had been caught on camera.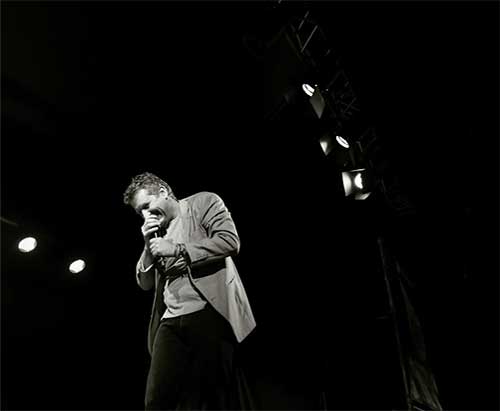 The gentle warm up to the set, chatting to the audience took this show to a completely different place - first we had the girl in the bunny ears and Adam Hills t-shirt who came up on stage. This looked like a normal comedy show to this point. Then some great laughs with the translation of words into sign language. All what you'd expect on The Last Leg - then a one armed man whose girlfriend had been messaging Hills all week to ask if he would sign his prosthetic arm took things off script. As the arm, which turned out to be a joke shop dummy was crowd surfed from the circle to the stage quicker than its owner could get downstairs, an older woman stood up dressed as a clown, asking to join them on stage. She was dressed in homage to the name of the show - Clown Heart.
The guy with one-arm was Salford's answer to Hills' Last Leg co-host Alex Brooker and when you threw in a couple of gold winning Paralympians, a new 'boy band' and a very special guest at the end of the show, this was a classic evening of comedy I am so fortunate to have seen.
Within the show that was extended by almost half an hour, Hills did manage to get some his carefully crafted script in - and using comedy to kick back at his father's death was honest, moving and left you crying with tears of laughter and compassion.
I'd now like to go see this show again, just to see what other brilliant work was missed out from the very unique, one-night only Salford performance I wouldn't have missed for the world.
Prior to Hills taking to the stage his support act, Irish comedian Ian Coppinger made his own impression on the evening and is certainly one to watch out for in the future.
Reviewer: Katie Chesworth
Reviewed: 2nd October 2016
North West End Rating: ★★★★★