This was the most theatrical stand-up comedy show I have ever watched. As we entered the Lowry Theatre's largest venue, The Lyric Theatre, we were greeted by a large curtain across the forestage with Ross Noble's face staring quizzically out at us and with some excellently chosen pre-show music [I had the feeling that even this may well have been chosen personally by Noble. I loved the 'Cheesecake Song'!] we knew that this was a comedian who took his work seriously.
There was an electronic 2 minute countdown, and then a well-produced short Musical Theatre styled song with video about not having your phones on or recording images during the show. (it certainly drove the message home!), and then as the Noble-faced curtain was removed the entire stage was filled with giant light bulbs! I would love to credit the set designer at this point, but sadly, since this was a stand-up comedy show, there are no programmes; but I have never seen a stand-up comedian with a theatre set design before! His show was called Brain Dump - wait a minute... light bulb moment.... exactly!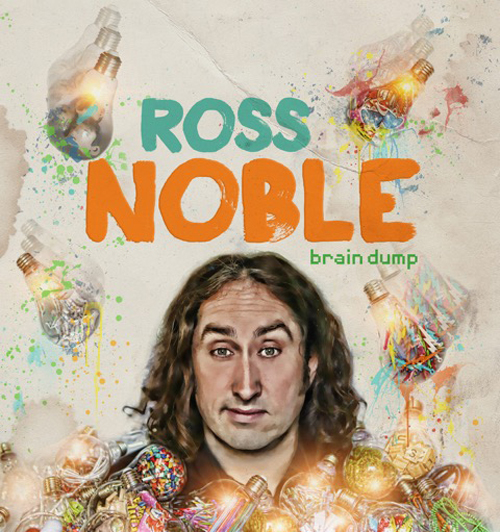 For those who don't know who Ross Noble is, then think of a Scottish Highland Cow but with black hair and a slightly panicked, confused expression, and that's pretty much Noble's trademark look! You may well have heard him on radio as a panellist on either 'Just A Minute' or 'I'm Sorry I Haven't A Clue', or on TV as a guest on 'QI' or 'Have I Got News For You'. And he even had his own TV Show where he travelled up and down England on his motorbike, 'Freewheeling'.
On stage, Noble has been delivering comedy to the masses since the age of 15, and simply goes from strength to strength, winning The Barry Award and Time Out Award for best live stand up. Here is a man who really knows his onions and with his manic, disconnected, seemingly improvised, audience-motivated routine, which, in his own words, often needs no more than four words on a piece of paper, it is easy to see why this man has been catapulted into comedy stardom and won our hearts.
His style is fast-paced, never standing still, and as he takes heckles and suggestions from the audience weaves this in around his own 'four words' to make a whole routine. He rarely finishes one story before being digressed and diverted down many other paths but will eventually bring you and himself back and always with great skill. It seems random, it seems unprepared, but that's the joy of watching him, and the danger he faces each night as he constantly must trust and test his own craft.
Noble often thinks of things which are really quite bizarre and surreal; (yes, Mr. Noble, meeting an Olympian with a carrot for a head would be surreal, I admit, but we also have to admit that in comedy terms your banter can be given the same epithet.); and in order for us to understand the concept he will act these ideas out for us on stage too making the visual just as stimulating as the audial. I shall simply write, 'flesh tobogganing' and leave that for your own imaginations!
Further more, I must also say that Noble did not use or need a support comedian. For more than 2 hours, we heard and saw nothing more than a few light bulbs and Mr. Noble, dressed in black pyjamas and red slippers, strutting across the stage. Brilliant!
The only thing I would say was that with the show starting at 8:00pm, and with Manchester's traffic situation being as it was tonight (trams at a stand still, and buses overloaded and overworked due to Justin Bieber and Manchester United playing at home) it meant that several of us had to sidle out of the auditorium a little before the show finished, and several of us came into the show a little late too. Obviously completely out of Noble's control, I understand that, but irritating nevertheless.
And there is just one more thing which I have to write about. I write about it with almost every comedian I see sadly. This is something which is becoming very much the norm and totally accepted and so I suppose I really oughtn't to be such a prude perhaps, but comedy really does not need swear words to make it funny. Mr. Noble you are a very funny and intelligent man with a wandering, slightly off-kilter brain filled with fantasy, and it is a joy to hear you 'dump' your ideas and madness on us. Profanities, no matter how insignificant you may think them, do lessen the experience and the impact.
Tonight was also the first night of 2 here in Salford [The Lowry, where he painted matchstalk men and all that...... a good way to open a show, heckle the audience with jokes about their home town and their artist hero!] as the tour continues to take in the length and breadth of Great Britain culminating in Coventry on 16th February.
He has already become a household name as a comedian, but if you haven't seen him live, then I can certainly recommend it. The show will be different every night depending on audiences heckles and reactions, but the four words for this tour will ensure that he stays on track somehow, and he will have you howling with laughter within the first few minutes, guaranteed!
Reviewer: Mark Dee
Reviewed: 20th October 2016
North West End Rating: ★★★★