The Manchester Comedy Store was taken over by taboo and risqué subjects in an evening dedicated to the darker side of comedy ranging from Child Slavery to Kevin "The REAL Terrorist", Hitler to Donald Trump (obviously!)
This show is not for the faint of heart, the easily offended or with all honesty the unintelligent." There was a great buzz round the intimate crowd assembled.
The night was hosted by Sully O'Sullivan who reminded us about the Golden Rules of a comedy club with material about Trump-ageddon, religion and paedophilia:
Turn your phone off, if it rings the act will answer it

Concentrate on the front and don't chat through the acts

If you are going to heckle, make it funny or you are wasting everyone's time.
O'Sullivan's material got everyone going ready for the night but a few of the lines felt a little uncommitted. He had a very difficult job to warm up the room on a night where sensitive material was to be aired, but handled this introduction incredibly well. He did however, make the huge mistake of talking to Jake; a bloke who refused to understand the comedy Golden Rules.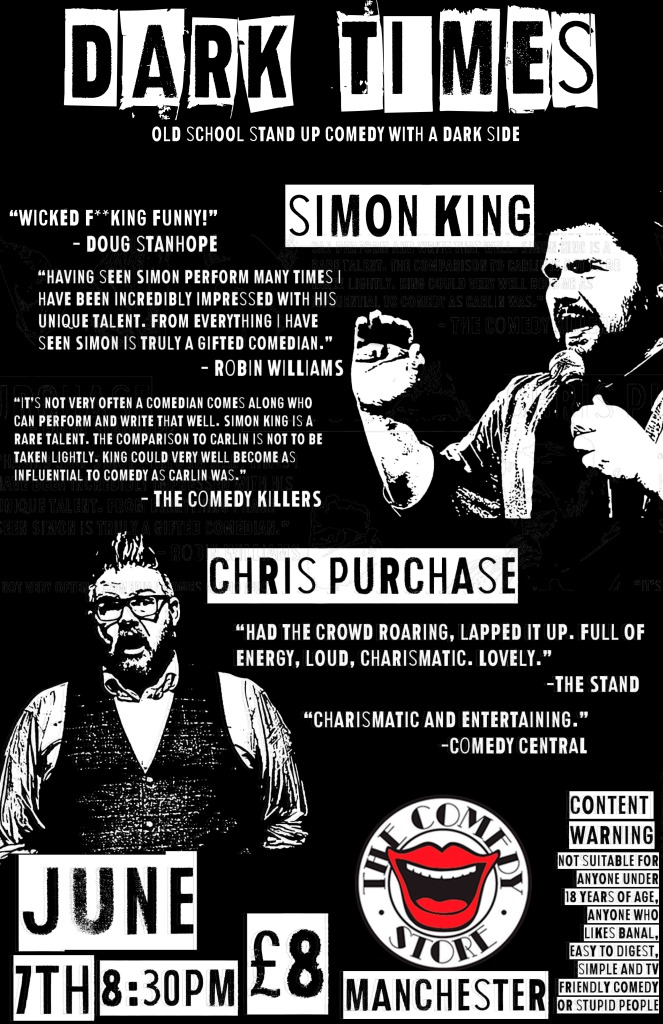 Chris Purchase showed that looks can be deceiving as he delivered his satanic material in beige trousers and hand knitted cardigan. His set focused on his turbulent past with some very personal moments touching on depression, his attempted suicides, and the custody battle for his young children. I know, this doesn't sound like a hilarious combination, but his charm shone through: Gags were carefully woven together with satire so that you were hanging off his every word. His anecdotes were witty and endearing, truly personal reflections on Dark Times.
Simon King was introduced by a great second spot from O'Sullivan and burst onto the stage with a wild enthusiasm and energy. His set was smooth and well-polished, lines flowed as we whirl winded through a variety of satanic subjects. His set epitomised the motives for the event, an evening: "for people who want to cross lines and ruffle feathers but always with a purpose. Never cheap or easy but always pushing the boundaries and attacking taboos."
His observations about our general lives were remarkable and really connected with the audience in front of him. It was a wonderfully intelligent performance that had me questioning the entire Disney Franchise and perhaps Kev really did infiltrate the Illuminati. Simon was a real pleasure to watch and the room rang with laughter.
Dark Times promised an evening of taboo subjects, basically the worse human kind had to offer. This was certainly the case but not onstage, in the audience. On too many occasions was the evening spoiled by the minority: Jake who continued to heckle despite him being less funny that athletes foot, and a girl on the front row who decided to put on her entire wardrobe during Simon's final quarter. This was exacerbated by being so drunk she couldn't find the arm holes in her cardigan and wrapped her scarf around her head. The disrespect in the Comedy Store spoiled the evening for the majority and certainly affected the acts on stage.
The performances were solid and entertaining so do take the time to go and see these wonderful comedians. I hope that for future events the unintelligent pay heed to the advert.
Reviewer: Dave Collins
Reviewed: 9th November 2016
Comedy Store: http://thecomedystore.co.uk/manchester/ / @ComedyStoreMCR
Sully O'Sullivan: http://www.sullyosullivan.com/index.html / @Sully_OSullivan
Chris Purchase: https://dailypurch.wordpress.com/ @chrispurchase
Simon King: http://www.thisissimonking.com/ / @unfamous