Welshman Griff Rhys Jones, now in his 64th year, is an actor, comedian, producer, documentary presenter, producer, writer, well the list goes on, and indeed in a one-man touring show, he could have chosen just about any topic with which to delight the audiences. Instead, namely his latest tour 'Jones And Smith', he chose to talk about his comedy partner, the late Mel Smith.
I suppose when thinking of Jones, the name Smith is indelibly linked; the two enjoyed one of the most successful and longest running TV comedy partnerships ever and formed Talback Productions together. Like all good comedy duos, one was chalk to the other's cheese; but what came across tonight in bucket loads was the love Jones had, and still has, for his too-soon-from-this-earth partner.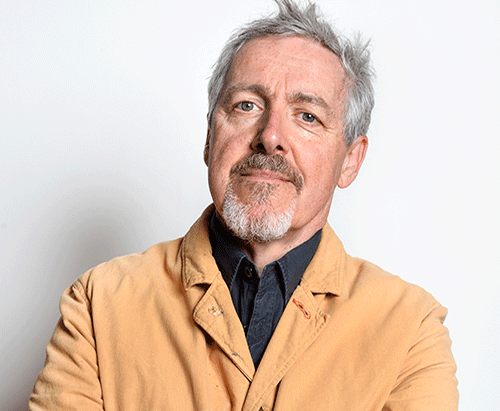 In mock anger he spoke about how it was always Smith that everyone wanted to meet; and how 'his fat friend' was always the one to garner all the attention. Even the name of the show put Smith first! (hence Jones's ironic title for this).
The show was packed full of anecdotes and reminiscences, all of which I hope were true; since another angry lambasting towards the start of the show told us that he hated the press - they misinterpreted everything or misquoted everything, and so all he was about to say the whole evening would be lies!
On a bare stage, save a high bar chair and a projection screen, Jones commanded the stage. He still had a great ability to be able to sit quietly on stage staring upwards, obviously lost in the memories conjured by his discourse, and no-one moved or shuffled - he held his audience, until he came back down amongst us again. And yes, despite all his needling at how Mel Smith was always the one everyone wanted to see and speak to, his seemingly embittered one-liners which punctuated his routine were I am sure all just a part of this routine. One could tell that his affection for and admiration of Smith were baggage that he simply could never lose.
The anecdotes took us through from his first ever sighting of Mel Smith in Edinburgh, to their joining forces for Not The Nine O'Clock News, through to charity gigs, The Royal Variety Performance, their TV work together, and even some interesting things about Mel Smith's projects which never really ever got to see the light of day.
Jones's style was, as you might expect, rather pent up, slightly neurotic, and up tight; shouting loudly one minute and then almost crying the next. His monologue was rambling and disjointed, and he was easily distracted, but again it is really hard to tell whether that wasn't just a part of a very clever act or not.
Mel Smith always wanted the both of them to tour in Neil Simon's play, The Odd Couple, as indeed, that is exactly what they were at the height of their fame together. Mel Smith was Oscar to Griff Rhys Jones's Felix.
The whole evening was devoted to and a loving tribute to the one man who meant more to Jones than I think he would ever care to admit, and although the evening was ostensibly about Jones, we learnt precious little about him, ( except that he has now been 33 years Tee-total ), and much about his comedy nemesis - sorry, partner!
Reviewer: Mark Dee
Reviewed: 19th November 2016
North West End Rating: ★★★
Picture: Steve Ullathorne