Character Comedy In A Class Of Its Own
John Shuttleworth hits the road following appearances on Celebrity Antiques Roadshow and the second series of Radio 4's John Shuttleworth's Music for his farewell tour – well his latest one anyway. A recent health scare (athlete's foot apparently) along with the demise of so many entertainers during 2016 has forced the Sheffield singer/songwriter to focus on his own mortality and the many things he needs to do before his inevitable move into a hospice. Can sole agent, Ken Worthington, pull out the stops to give John a final soiree? Whilst this unravels, or not, in the background, John turns his considerable mind to issues of the day as he contemplates amongst other things a trip to Morrisons, the demise of soap, and mingling with mourners before his attention turns to the excitement of sucking his first ever mint and the loss of so many favoured sweet brands.
Shuttleworth champions the small things in life and the mundane experiences we all have that irritate us more than they should and in so doing he automatically has a willing audience who can share in his rose-tinted recollections and observational humour between the songs where his talent as a wordsmith truly comes to the fore within these keyboard ditties: a song about domestic troubles over two open tubs of margarine sees him rhyme fridge and marriage; a trip on the infamous A1111 to Ken's country retreat allows the rhyme of rally and chalet.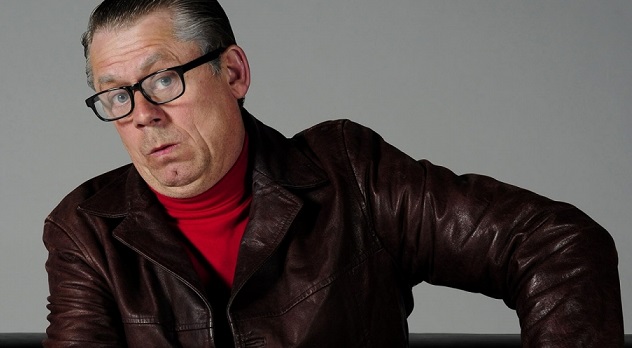 This is gentle Northern humour at its best, nothing to overly offend as he skirts round those odd little things with a few topical and local references thrown in as well as an acknowledgement to all those 1980's Sheffield synthesizer bands who are probably now touring again. Its key is its simplicity: there is nothing that an audience can't engage in. But, as with his subject matter, the show and performance is an acquired taste and at almost two hours you may feel sometimes that you've got it, thanks very much.
But I must be fair to the fact that there was an almost full house tonight of whom most were clear fans. There was a lot of laughter and clapping throughout and Shuttleworth is a master of audience interaction – although nothing that might cause anyone any discomfort – and has everyone singing along at various points. And as his planned encore for the last twenty minutes invited audience members to pick favourite songs for him to perform – and which he duly did – there was no doubt from the frenzied excitement in response that here is a performer clearly held in the highest regard and so if he does to choose to retire, he will be well remembered. I thought his closing remark to the audience to stay in the bar afterwards as he would be coming through spoke volumes and the strong connection he has with them.
The Playhouse began life as the Star Music Hall in 1866 and became a theatre in 1911. In 2000 the Playhouse joined forces with the Everyman to become Liverpool and Merseyside Theatres Trust (LMTT) with Gemma Bodinetz (Artistic Director) and Deborah Aydon (Executive Director) appointed as joint Chief Executives in 2003. As well as the main theatre, there is a small studio space seating up to 80. Further details http://www.everymanplayhouse.com/
John Shuttleworth's My Last Will and Tasty Mint tours throughout the UK until the end of March 2017. Full details of forthcoming venues are available http://www.shuttleworths.co.uk/pages/tour.html
Reviewer: Mark Davoren
Reviewed: 21st January 2017
North West End Rating: ★★★