Stand Up Thursday at The Comedy Store is firmly etched in the diary of this superb venue in Manchester. Tonight was the best attended Thursday night I have been to in the many years I have been going to the arches underneath Deansgate Metrolink station. This was in part I think connected to the headline act of the evening, Joe Lycett.
MC for the night was Paul Thorne. Thorne is probably the best MC at The Comedy Store in my opinion. His interaction with the audience is superb, and tonight there was no shortage of people to target. With a scientist turned driveway designer sat on the front row to foreign guests from Estonia and Scotland (on a school night), Thorne was visibly loving his time on the stage.
First on stage was Danny McLoughlin who told the near capacity crowd of the paper round he undertook as a kid and one specific problematic customer he encountered. Revenge a few years later was on this occasion best served hot! After a section on the observations one makes when using the bathroom he closed his enjoyable set with a rhyme about Uncle Rasputin!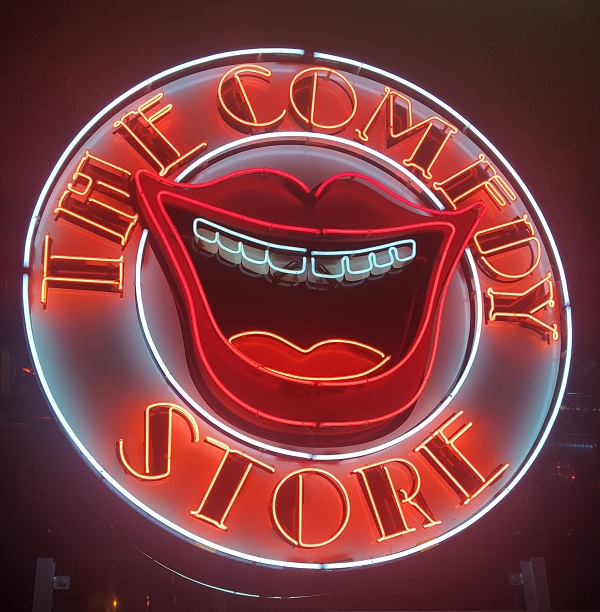 Following a short interval Thorne returned to the stage carrying on where he left off at the beginning of the night. This time a female musician from Liverpool (well Aintree) provided all the ammunition he needed for an entire set! Thorne then welcomed Will Duggan to the stage for a short set revolving mostly around Doctors.
Top of the bill tonight was Joe Lycett who was absolute comedy gold. Hailing from Birmingham, he still lives with his parents and drives a Ford Fiesta, but it is his interactions with official bodies and his postings on Twitter that are probably what he is most famous for, especially after his much watched appearance on Cats Does Countdown where he told of how he got out of paying a parking fine.
During the set tonight he recounted his interactions on Grinder posing with an unusual profile and how he is communicating with President Donald Trump on a regular basis via Twitter. Looking back through his tweets after the show tonight, they are superb, however Mr President doesn't seem to respond! Lycett's final part of the set was about his email communications with the landlady of his offices in Birmingham. Each one of his replies was eloquent and totally believable much to the delight of the audience. This is an extremely clever form of comedy which Lycett has made his own, long may it continue.
If you haven't been to The Comedy Store before on a Thursday night I highly recommend it. For just £12 you get to see 3 comedians at the top of their game. For details of future names performing visit www.thecomedystore.co.uk/manchester
Reviewer: Paul Downham
Reviewed: 26th January 2017